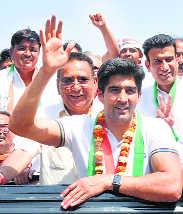 Vibha Sharma
Tribune News Service
New Delhi, April 25
The South Delhi Lok Sabha constituency is what one can easily classify as a quintessential BJP seat. Despite the changes in its constituent Assembly constituencies over the years, it has been held by the BJP more number of times than any other party, in this case the Congress.
In the 14 elections to the South Delhi Lok Sabha constituency since it first came into being in 1967, including a byelection in 1985 when Congress stalwart Arjun Singh won, it has returned a saffron candidate seven times, eight if the first person to ever win the seat-Balraj Madhok, a founder member of the erstwhile Bharatiya Jana Sangh, the forerunner of the BJP, is taken into consideration and nine, if senior BJP leader Vijay Kumar Malhotra's win on a Janata Party ticket in 1977 is also accounted for.
After the Emergency was withdrawn and elections held, the Bharatiya Jana Sangh joined political parties like the Bharatiya Lok Dal, the Congress (O) and the Socialist Party, to form the Janata Party, which then formed the first government at the Centre that was not led by the Congress. The Congress has won it five times, the last time being in 2009 when Ramesh Kumar, brother of Sajjan Kumar, the 1984 Sikh carnage convict defeated the BJP's current incumbent Ramesh Bidhuri. It remains to be seen whether professional boxer Vijender Singh and Raghav Chadha, the young face of the AAP, will be able to displace him.
Chadda accuses BJP leaders of South Delhi of practising "politics of fear and intimidation for years and turning a deaf ear to people's problems". He believes that South Delhi is ready for a "change".
Vijendra Singh says he wants to fix basic issues, improve general quality of life burdened by extreme air pollution and those related to water and electricity. Accusing the BJP of "spinning a yarn" all this while, he promises to improve sports facilities and also infrastructure like roads, water, electricity, schools and healthcare in the area.
Bidhuri, who dismisses all these allegations, claims because the Congress and AAP have no issues, they are "making false allegations. Bidhuri has won the Tuglakabad Assembly constituency, which comes under the South Delhi Lok Sabha constituency three times. Delhi's seven seats go to polls in phase 6 on May 12
Among the BJP stalwarts who have represented the South Delhi constituency are Delhi's former CMs — late Madan Lal Khurana and current Foreign Minister Sushma Swaraj — apart from Vijay Kumar Malhotra who won it three times. Former PM Dr Manmohan Singh also contested from the constituency in 1999. However, he lost to Malhotra by around 30,000 votes.