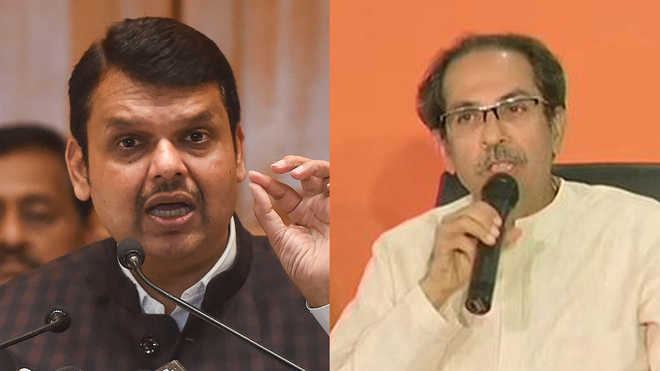 Shiv Kumar
Tribune News Service
Mumbai, November 8
Maharashtra Chief Minister Devendra Fadnavis announced his resignation on Friday after talks between his Bharatiya Janata Party and ally Shiv Sena broke down completely.
However, he promised that the BJP would form the government in the state with its own chief minister, prompting Sena to wish him luck.
Fadnavis announced he had submitted his resignation to Governor Bhagat Singh Koshyari, and that he would continue as acting chief minister.
READ: Congress-NCP plays wait-and-watch
"My resignation has been accepted," Fadnavis said. "We have done a great deal of development in the past five years. We have achieved all our goals in the past years."
"Our work was rewarded. We emerged as the single largest party in the state with 105 seats. Our strike rate for development work has been more than 70 per cent," he said, saying he appreciated the people of the state for their support.
He blamed the breakdown of talks on the Shiv Sena, which he said went back on its words.
"Uddhav Thackeray said in the first press conference that he was open to all options. We were shocked. We are allies. People gave us mandate as an alliance. In such a situation, why keep all options open," he said.
He addressed the sticking point between the two parties—the chief minister's position. He claimed he had no knowledge of an agreement to share the position between the two parties.
"About rotating the chief minister's position for 2.5 years, I've said before, and I say it again: there was no such discussion to my knowledge. No such decision was taken before me. What happened between Uddhav Thackeray and Amit Shah, only they would know," he said.
He accused the Shiv Sena of being uncooperative and reluctant to sort out differences.
"I think that any misunderstanding over the issue could have sorted out. I have share a close relationship with Uddhav Thackeray. I called up Uddhav myself but he didn't take my call," he said.
"There had been reports that the Sena has spoken to the Congress and NCP. The Sena has been making sure that they would only hold discussion with the Congress and NCP. It's clear from the press statements made by some people around Uddhav over the last few days. You can get space in the press but no government can be formed this way," he said. "The BJP holds Balasaheb Thackeray in great regard, and would never disrespect him this way. Whether it's Uddhav or Balasaheb, we never spoke a bad word against them."
He also accused the Sena of playing the opposition, and said that the words it used against Prime Minister Narendra Modi was "unacceptable" to it.
"I expect this from the opposition, but not our ally. It's wrong and unacceptable. We thought this might change," he said. "The way they spoke about the Prime Minister is also unacceptable, and it made us question if we can run a government this way."
He also addressed accusations of poaching from the Sena, saying he would "personally ensure that these MLAs will not be touched, or will join any another party".
"I have to say that the statements by some leaders about attempts by the BJP to buy MLAs are wrong," he said.
He also spoke about the agrarian crisis in the state.
"In over 300 districts in Maharashtra, crops have been damaged and farmers' condition has been worsened in the state. Despite our limitations, despite knowing that there would be a new government, we did what we could. "
'Stop gap'
He would continue to function as an acting chief minister of the state until new arrangements are made.
"Governor has asked me to be acting chief minister. We can't take any new decisions. This is only a stop gap arrangement," he said, adding that he would "do everything to ensure the state had a stable government".
"I fear that when the deadline to form government ends tomorrow, we will not have a government in place. I promise to do everything to ensure stable governance. It's wrong to disrespect the people's mandate and wrong to force a state into a situation where it would have to hold new elections," he said.
He also promised that the BJP "will make a government in the state, with a BJP chief minister", and said he appreciated the press and opposition for doing their job.
'Was clear from the beginning'
Shiv Sena chief Uddhav Thackeray countered Fadnavis's claims at a press conference he held at the party's headquarters only minutes after Fadnavis. Thackeray said he made it clear that he wanted the chief minister's position for his party from the very beginning.
"This is the first time in the history of Sena that somebody has accused us of lying," he said.
"Fadnavis accused me of lying about a meeting I had with BJP president Amit Shah," he said in reaction to Fadnavis's claims that the party had never offered to share the chief minister's position with the Shiv Sena.
Devendra Fadnavis has called the son of Balasaheb Thackeray a liar. How can I face my Shiv Sainiks if somebody has called me a liar?," he asked.
"Amit Shah and Devendra Fadnavis came to me, I didn't go to them. During our discussions, the BJP had promised the deputy chief minister's position," he told reporters, saying he had categorically told Shah that it was not what he wanted.
"Amit Shah called me up and asked me what I wanted, and I hold him that I wanted to fulfil the promise I gave to my father Balasaheb Thackeray: I want the chief minister's position. I had clearly stated that I wanted a 50:50 sharing formula," he said.
"He met at Matoshree later. He told he wanted to improve the ties that soured between his tenure," he said. "I had made it clear even before the elections that we wanted the CM's post and would not settle for anything less."
He also claimed he felt betrayed by Fadnavis.
"Devendra Fadnavis is a friend, and I did not expect from him. I accept that I was the one who stopped all communication with the BJP after they went back on their word. They are trying to prove that the Sena is a liar."
He also accused the BJP of similarly going back on its word before the 2014 elections.
"Even before the elections in 2014, the BJP went back on their word of giving us important positions. Chandrakant Patil told me that Amit Shah would hear and understand what we're saying," he said.
He also contested Fadnavis's claim that he had criticised claim saying he had never done it, instead pointing to the things that Dushyant Chautala, who is now an ally of the BJP in Haryana, allegedly said about Modi.
"I will fulfill the promise I made to my father to install a Sena Chief Minister. We don't need Shah or Fadnavis for that," Thackeray said
The Sena meanwhile, moved its MLAs into a coastal resort in Mumbai on Friday and demanded protection from Mumbai Police.
Talking to reporters here earlier in the day, Raut said the BJP should not misuse the provision of "caretaker" government. As rumours flew of Union Transport Minister Nitin Gadkari's meeting with Uddhav Thackeray, Raut told reporters that Gadkari was welcome to the Thackeray residence as long as he carried a letter offering the post of Chief Minister to the Shiv Sena for 2.5 years.
Following Raut's remarks, Gadkari denied reportes of such a meeting.
"As per my information there was no deal between the BJP and the Shiv Sena over equal sharing of portfolios in Maharashtra," Gadkari said in words that indicated that the party was in no mood to relent.
The surprising mandate of October's assembly elections led both BJP and Sena to squabble over sharing of power—in particular the chief minister's position. BJP won 105 seats in the elections, Sena won 57, while opposition NCP won 55 and the Congress won 44. Halfway mark in the 288 member assembly is 145.
The latest development has thrown government formation into uncertainty, especially when it comes so close to the deadline.
Deadline for government formation in the state is Saturday, November 9. Not having a government in place by then pushes the state closer to re-elections. With PTI
Top Stories