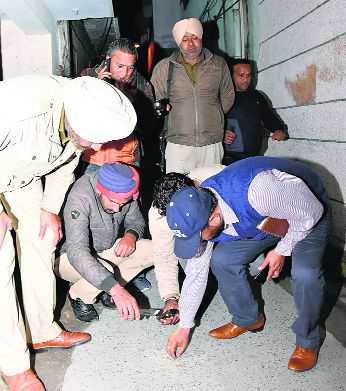 Tribune News Service
Jalandhar, March 10
Gangster Jaspreet Singh, alias Jassa, was shot dead by members of a rival gang in Sangat Nagar colony here on Saturday night. Nine people have been booked.
Another gangster Ajay Masih, alias Kalu, and his associates have been accused of killing Jassa.
The deceased was a resident of Deol Nagar and wanted in two murder cases.
According to the police, the incident took place on Saturday night when Jassa and his brother Gurpreet Singh went to Sangat Nagar colony following which Kalu and his associates opened fire at the former. The locals took Jassa to a private hospital where he was declared brought dead.
The Deputy Commissioner of Police (Investigation), Gurmeet Singh, and the station house officer of the area immediately reached the spot and started investigation. Gurmeet Singh said Jassa was suspected to be in a relationship with the sister of the accused due to which he was murdered.
In his complaint, Gurpreet alleged that around 11.30 pm, he and Jassa were going to the latter's in-laws' house in Sangat Nagar on a two-wheeler when they were attacked. "As we were crossing the main road, the attackers, having pistols and sharp-edged weapons, gheraoed us. We tried to escape but Ajay and Vijay opened fire on Jassa after which hefell on the road," the complainant added.
Meanwhile, Police Commissioner Gurpreet Singh Bhullar said the police had got vital clues about the murder and an FIR under Sections 302, 148, 149, 25 and 27 of the Indian Penal Code had been registered against nine people, including Ajay Masih, his wife Babli, his brother Vijay Masih, sister Renu, father Samuel, uncle Tipu and three residents of Sangat Nagar colony.
The Police Commissioner has also formed four special teams to nab the culprits.