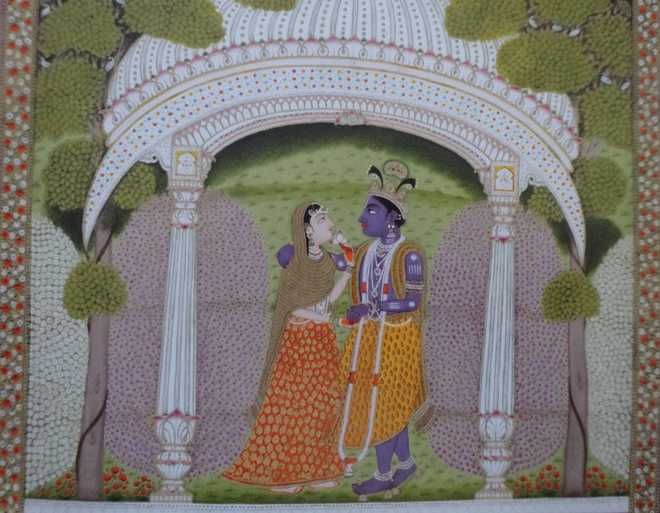 editorial@tribune.com
BN Goswamy
The love of beauty has, of course, been the primary motivation behind our collecting. Beauty, to me, whether found in nature or in man-made objects, is ennobling and enriches the soul. It remains to me a kind of mystery, a concept somehow beyond the intellect. For example, one may feel that an object is beautiful whether or not one is aware of its place in history, its possible uniqueness, or its significance on a broader scale. It is here that intuition comes into play….
Certainly Peggy and I both believe that our collecting and enjoyment of man-made objects of beauty have given us a saner, more balanced, and more joyful approach to our activities in every area of life. — David Rockefeller (1915-2017)
When early last year it became public knowledge that the collection of David and Peggy Rockefeller — a collection they had assembled over long years — was going to be up for auction, now that both of them had passed on, the market was abuzz with excitement and speculation. What was the extent of the collection that was going to go up? How much had the auction house 'committed' as an estimate to the Rockefeller family? What part of the collection was likely to catch the bidders' eyes the most? Nothing could be said with certainty, but when all details had been worked out, the excitement mounted even higher: the catalogue of the collection alone was going to consist of six volumes! Volume I was going to feature 19th and 20th century art; volume II dealt with English and European Furniture, Ceramics and Decorations; in volume III was listed Art of the American continents; volume IV had 'Fine Art'; volume V featured the second part of English and European Furniture, etc.; and, volume VI brought up the rear, with 'Travel and Americana' which included Islamic Art, and the Arts of India.
Things had been building up for some time towards this. The auction house had taken the collection around and showed parts of it in 'three continents'; around 80,000 people had seen it before the auction in New York actually began. By the time the auctions on successive days ended, nearly every one of the almost 900 lots had been sold. The sales added up to the staggering sum of 828 million US dollars and this did not include the online-only sales. A billion dollars is what the estimates might have possibly amounted to. Several factors contributed clearly to the landmark bustle and commotion that these auctions had caused, apart of course from the quality of the collection itself in which the presence of Cezanne, Picasso and Matisse and Kandinsky was palpable. For one thing, there was the Rockefeller name. After all, David Rockefeller had inherited many things: "a storied name", as someone wrote, "unimaginable wealth, an inquisitive mind, and a profound compulsion to collect". He was among the heirs of one of the richest individuals in American history, and both his parents had been into collecting for long years themselves. The provenance was thus impeccable. Then, there was the widely known fact that the collection was not going to be auctioned for personal gain: No individual, according to mayor of New York, Michael Bloomberg, had contributed more to the commercial and civic life of New York City over a longer period of time than David Rockefeller. In this case, David had pledged "to direct the majority of his wealth to philanthropy and provide for the cultural, educational, medical, and environmental causes long supported by the couple". No one was therefore truly surprised by the sums that were realised.
This apart, for me what is most absorbing is the candour with which David spoke of his 'career' as a collector throughout his life. He started really young: "I do not remember whether I started first with stamps or with beetles, but both collections must have been under way by the time I was ten years old," he wrote. "Obviously, neither beetles nor stampsare directly cultural concerns, yet my interest in and curiosity about them set certain patterns that I suspect have influenced me". Art came into his life in a big way as he grew up. He shared his passion for collecting with his wife, Peggy, whom he had married in 1940. "The first painting of any consequence we bought," he wrote disarmingly once, "was a portrait of a handsome young gentleman, attributed (falsely, as it turned out) to Thomas Sully. We paid $10,000 for it in 1946, which was a great deal of money for us at the time [approximately $137,000 today]. We liked it very much, and for many years it hung over the living room mantel in New York." But then added: "Collecting differs from mere acquisition in that it is an intensely personal experience, and Peggy and I and the other members of our family have been deeply involved in the process over the years. We have always been fascinated by the cultural history of works of art and by the circumstances under which they were created".
Quite naturally, there was attraction in Egypt and Greece and Rome — among the oldest of civilisations and cultures — and pieces were picked from there; tribal art from Africa and Oceania entered their ken and some stunning pieces were gathered; the elegance of Japanese and Korean works, the fragile fluency of Islamic paintings, especially from Iran, the breath of history that clung to old Americana: there was seduction in everything. All this, of course, apart from the natural inclination towards modern European and American masters, in British furniture and ceramics — which were part of the inherited interest of the family — remained embedded. All, or nearly all of it, found their place in the six catalogues of the collection as it went up on sale this year.
David Rockefeller's own words — "We never bought a painting with a view towards 'forming a collection' or to 'fill out a series,' but simply because, in the end, we couldn't resist it" — were everywhere.
All readers are invited to post comments responsibly. Any messages with foul language or inciting hatred will be deleted. Comments with all capital letters will also be deleted. Readers are encouraged to flag the comments they feel are inappropriate. The views expressed in the Comments section are of the individuals writing the post. The Tribune does not endorse or support the views in these posts in any manner.
Top Stories