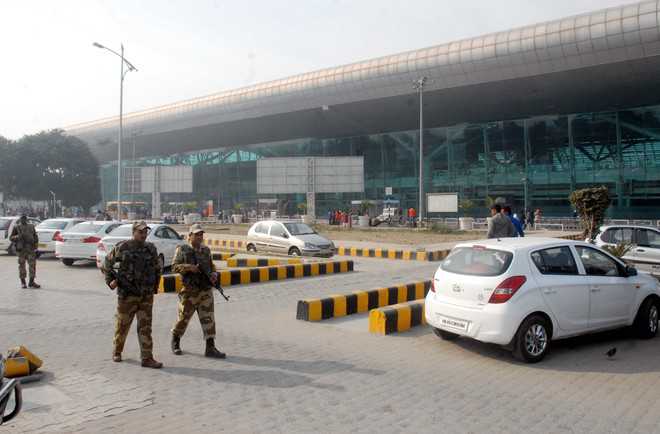 Tribune News Service
Amritsar, August 29
Annual footfall of international passengers at Sri Guru Ramdas Jee International Airport is likely to cross over record 16 lakh this financial year (2016-17). Earlier, as many as 12.50 lakh passengers landed and boarded from the city airport in 2015-16.
Footfall of international passengers increased by 59.6 per cent in the quarter ending on June 30, 2016, in comparison to the corresponding period last year. From April to June 2016, the number of international passengers jumped to 1,10,916, which was 69,507 in the same period last year.
The credit goes to many international flights launched during this period, which brought the Amritsar airport once again in the limelight.
In June this year, 39,582 passengers travelled to Amritsar as compared to 20,886 last year, which is an increase of 89.5 per cent. The total number of passengers increased at the rate of 30 per cent in the same period at the airport.
During the past one year, international flights that launched their operations from Amritsar airport include Malaysia's Malindo Air, which started Kualalumpur-Amritsar-Kualalumpur flight, and Singapore's Scoot Airway chipped in with Singapore-Amritsar-Singapore, besides SpiceJet introduced Dubai-Amritsar-Dubai flight.
Qatar Airways is already operating a daily flight between Amritsar and Doha. Uzbekistan Airways is operating a flight between Amritsar and Tashkent. Turkmenistan Airlines has a daily flight between Amritsar and Ashgabat. Air India Express has a daily Amritsar – Dubai flight.
Jet Airways announced to start flights to Abu Dhabi from Amritsar along with six other Indian cities.
The people associated with aviation industry regret that the SAD-BJP coalition government was not taking interest to help at least those airlines, which wanted to start flights from Amritsar.
Sources at the airport stated that many airlines like Emirates, Turkish, Bulgaria and Air Asia had evinced interest to start flights from Amritsar. While Air Vistara is expected to start its Delhi – Amritsar – Delhi flight from October 25.
Airport director Venkateshwar Rao said considerable hike in footfall of international passengers portends well for the Amritsar airport. He added that it may not reduce revenue losses, but help maintain the momentum, which may sound well for its financial health in the long run.
It is pertinent to mention that Amritsar airport had incurred a loss of Rs 50 crore during the last fiscal.