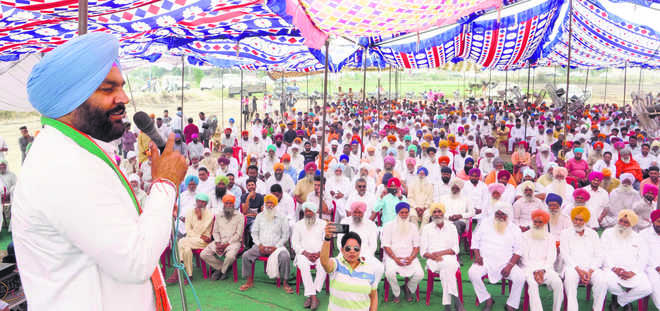 Tribune News Service
Amritsar, May 11
Gurjeet Singh Aujla, Congress candidate from the Amritsar Lok Sabha seat, has said that attacks on minorities and Dalits had instilled a fear into them. "Once Congress comes to power at the Centre, they will feel safe," he said at a rally organised by the Congress' scheduled caste wing on Saturday.
Aujla said the BJP had exposed its true face by "abetting attacks" on minorities. "People are afraid. Many from the majority community too are criticising the BJP as they feel that social fabric is being damaged which is not in the interest of the nation," he said.
The Congress leader claimed that the BJP conspired to scrap Mahatama Gandhi National Rural Employment Guarantee Act (MGNEGA) which is against the interests of Dalits. "With Congress assuming power, new schemes for social and economic welfare of the community will be initiated," he said.
Cabinet minister and Rajasansi MLA Sukhbinder Singh Sarkaria also organised a massive rally for the Congress candidate at Janjhoti village.
Sarkaria said the Congress would win all the 13 Lok Sabha seats in Punjab as "people were happy with the policies and works initiated by the state government" under Chief Minister Capt Amarinder Singh.
"Inflation is at all time high due to the wrong economic policies of the BJP government. Small traders have suffered the most due to the GST and demonetisation, resulting in widespread unemployment," said Sarkaria.
Sarkaria said the BJP had promised to double the farmer income but instead it had increased their input cost by applying GST on farm machinery.
He said the BJP was benefitting only a handful of big corporate houses. The saffron party is anti-poor and anti-farmer, he said. He also criticised the SAD-BJP alliance for 10 years of alleged misrule in Punjab claiming that it had put the state on the verge of bankruptcy.
Top News
Opposition Congress demands resignation of CM Naveen Patnaik...
Pace sensation Titas Sadhu, leg-spinner Parshavi Chopra dish...
Congress leader says people of J-K are in pain and his party...
Said there is a push from a growing number of member nations...
'Winning on the field and off it': ICC posts video on social...