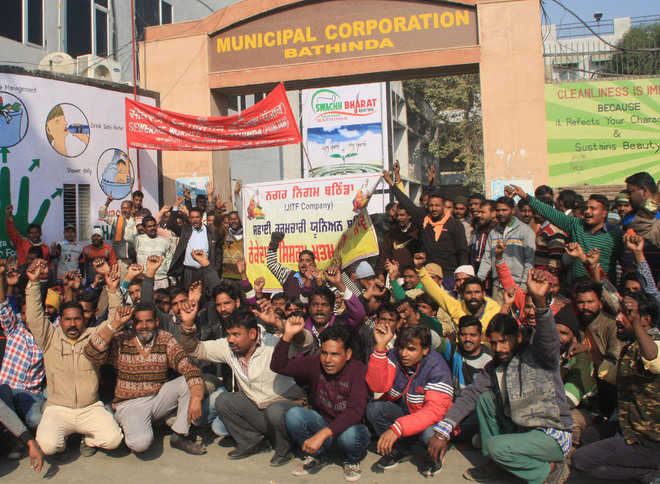 Tribune News Service
Bathinda, December 26
Contractual sanitation employees and workers of the JITF company today laid seize to the Municipal Corporation office over their demands, including regularisation of their services and elimination of contractual system, here.
During the protest, the protesters raised slogans against the state government and the civic body.
Seeing the situation going out of hands, Commissioner Anil Kumar Garg and Mayor Balwant Rai Nath called a meeting in the evening and decided to forward the demands of the workers to the Local Bodies Department. But protesters did not calm down and said they don't need any assurance, they just need appointment letters.
Announcing to continuing their protest tomorrow, the protesters also threatened to stop working. Officials of the MCB are looking worried after the announcement made by the protesters.
Around 400 sanitation workers, including sewer men working with the Sewerage Board on daily wages, sat on a dharna outside the MCB office.
When the Mayor and Commissioner reached the office to attend a meeting of the Finance and Contract Committee had to park their vehicles outside the office as protesters did not allow their vehicles to enter the main gate.
However, the Mayor tried to pacify the protesters and showed a letter written to the Local Bodies Department regarding their demands, but the protesters called it as a false assurance and entered into arguments with him.
Nem Chand, president, Sewerage Board Workers' Union, said, "We don't work if our demands are not met."
Sukhwinder Singh, Ram Babbu, Monu Kumar and Rinku, sanitation workers, said they would not collect garbage from houses and would block the road tomorrow.
Top News
India make historic 1-2 finish in triple jump | Women's hock...
Telangana Chief Minister K C Rao boycotts meeting, while Bih...
A red-letter day for the Indian shipbuilding industry, said ...
SSLV had lifted off from Sriharikota spaceport on Sunday mor...
Mandeep Kaur, who was tortured at the hands of her husband, ...