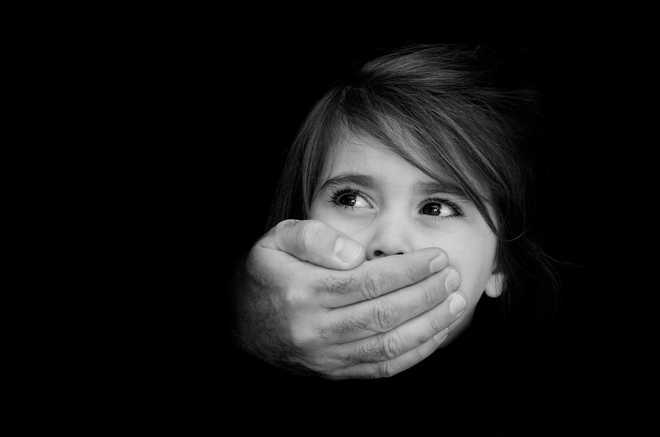 Satinder Pal Singh
Dhakoli, September 10
Highlighting the sorry state of child safety in the tricity region, an incident was reported from Dhakoli, near Zirakpur town, where an eight-year-old girl was raped by a 12-year-old boy this morning.
The boy, who hails from UP and at present lives at Dhakoli, has been charged under the Indian Penal Code as well as the POCSO Act following a complaint by the victim's father, who is a migrant labourer. He has confessed to the crime before the Dhakoli police.
The police said the incident happened at around 8 am when the victim, who is a student of Government Elementary School, Dhakoli, went to a grocery shop to fetch a packet of milk. The boy, who lives in the same locality, was playing with his friends. When he saw the minor girl walking alone, he forcibly took her to a nearby secluded spot and raped her.
Later, the victim narrated the incident before her parents, who found her bleeding. They approached the police. The victim was subjected to medical tests and a complaint was registered against the boy.
Jagjeet Singh, in charge of the Dhakoli police chowki, said a case had been registered against the boy on a complaint by the victim's family. He confessed to the crime. Jagjeet Singh said the girl's medical reports were awaited.
Meanwhile, sources in the hospital where medical tests on the victim were done, said the victim had injuries on her private parts and was bleeding little bit when she was brought to the hospital. The doctors said the minor was in a state of shock earlier. She was counselled for an hour, following which she responded positively.
Earlier, a minor girl, who was returning home after taking part in the Independence Day function at her school, was raped by somebody at a park in Sector 23, Chandigarh.
Cops accused of shoddy behaviour
The mother of the eight-year-old girl has slammed the police for their shoddy behaviour, alleging that they did not believe their story even when her daughter was bleeding at the police station. She alleged that the police kept them waiting and were hesitant to lodge an FIR against the boy. However, Jagjeet Singh, in charge of the Dhakoli police chowki, refuted the allegations. He said they needed to crosscheck whether the suspect was a juvenile, so a police team visited the boy's house to confirm his age. A police woman was called from Ropar, so the girl's medical examination could be conducted. He said a case had been registered under various sections of the IPC and the POCSO Act.