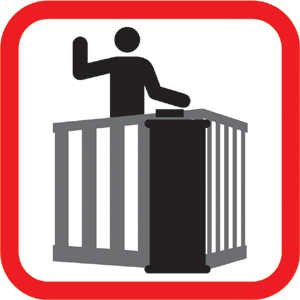 Bhartesh Singh Thakur
Tribune News Service
Chandigarh, August 25
For over a decade she has been referred to as Prosecution Witness No. 10. She broke down while narrating the rape incident before the CBI court, braving a barrage of questions on her virginity by the defence lawyer. Her unwavering perseverance led to the conviction of Gurmeet Ram Rahim.
She told the court that women followers (sadhvis) in two shifts would guard the gate at a girls' hostel leading to the self-claimed godman's gufa (cave) where he would stay for the night. In September 1999, when she was on night duty from 8 pm to 12 midnight, Ram Rahim came out of the gufa at 10 pm and called her inside. "I was alone at that time. I went inside as I respected him and treated him like God," she said.
(Follow The Tribune on Facebook; and Twitter @thetribunechd)
"I sat on the floor but he insisted that I sat next to him on a bed. I did as told. Baba Ram Rahim asked me whether I felt at home at the dera. He also enquired about other Sadhvis. He tried to touch me. However, I restrained him. He then forced himself on me. Physically powerful, he raped me. When I started crying, he threatened me not to speak about the incident," she told the court.
As she rushed out crying, other sadhvis gathered around her. But she did not dare to tell them anything. The next day when her parents arrived, she narrated the incident and left the dera.
In May 2000, her marriage ceremony was performed at the dera since her parents as well as in-laws were dera followers. The Baba too attended the wedding. With her husband raising doubts on her virginity, she told him about her rape.
She told the court she and her husband would get threat calls over the phone, asking them not to appear before the CBI officer. Even after a challan had been filed, the pressure did not cease. But the couple refused to be cowed. The couple were forced to leave their home as their elders were staunch dera followers. Once the victim's father-in-law took them to the dera to sign affidavits but fortunately the papers were not ready. The following day the couple refused to sign the papers. They shifted to Chandigarh and remained in hiding. Even during cross-examination, they did not tell disclose their address and occupation.
The victim was asked crude questions on her virginity, which were disallowed. Her husband confessed that suspecting his wife was not a virgin, he insisted on the truth. It was then that his wife told him that Ram Rahim had raped her. He hastened to tell his parents about the crime as they were sending his sister to become a sadhvi.
---
'Raped on pretext of forgiveness'
Bhartesh Singh Thakur
Tribune News Service
Chandigarh, August 25
For over a decade, she was called Prosecution Witness (PW) No. 5. She told the court that the Dera Sacha Sauda chief would rape sadhvis on the pretext of forgiving their sins and would compare himself with Lord Krishna.
In July 1999, she started living at the dera as a sadhvi. Other sadhvis would ask her whether Baba had granted her pardon. Perplexed, she would ask them what mafi meant, provoking laughter.
She saw sadhvis going inside the Baba's gufa many times. "On the night of 28-29 August,1999, Sudesh Kumari, in-charge of the ashram, told me that I had been called by Pitaji inside the gufa. I was only too happy. At about 8.30 pm, Sudesh Kumari took me inside. I rang the door bell upon which Baba opened the door. I wished him, saying, 'Dhan dhan satguru, tera hi aasra'. He asked me to sit and close the door. … I tried to sit on the carpet, but he asked me to sit besides him on a bed. I hesitated but later upon his insistence, sat on the bed at some distance," she told the court.
"…Gurmeet Singh asked me to confess if I had committed any mistake. I told him during my college days, I knew a boy and that he must be trying to defame me now. He told me now that I was a sadhvi. I must have control over body and mind. He told me I had become apavitar (impure) and 'by this act, I will purify you'. He then tried to kiss me. I resisted. He started manhandling and raped me. Shocked, I said I had treated him like God. He replied that Lord Krishna behaved likewise too. I wore my clothes and left crying," she said, adding the godman threatened her of dire consequences if she disclosed the incident to anyone.
She then returned to the dera. One of the gates of the gufa opened towards the girls' hostel and a group of four sadhvis would man the gate. She too was deputed on duty there several times. She narrated the incident of rape of Prosecution Witness No. 10, recalling she had called Baba a darinda and advised her to leave the dera.
After a year, Ram Rahim called her again. She refused. She was threatened her food would be stopped. When she went in, Ram Rahim rebuked her and closed the door. When she threatened to confess all to her brother, he said he would get him killed as he had links with influential persons. He then raped her. Later, he threatened to get her family burnt alive if she broke her silence.
In April 2001, her brother took her away. Suspecting that he was behind various anonymous letters against him, the godman asked him to seek pardon failing which he would be killed. He was murdered on July 10, 2002.
Married in 2005, it was owing to the support she got from her father and husband that she decided to fight for justice, she told the court.
Top Stories