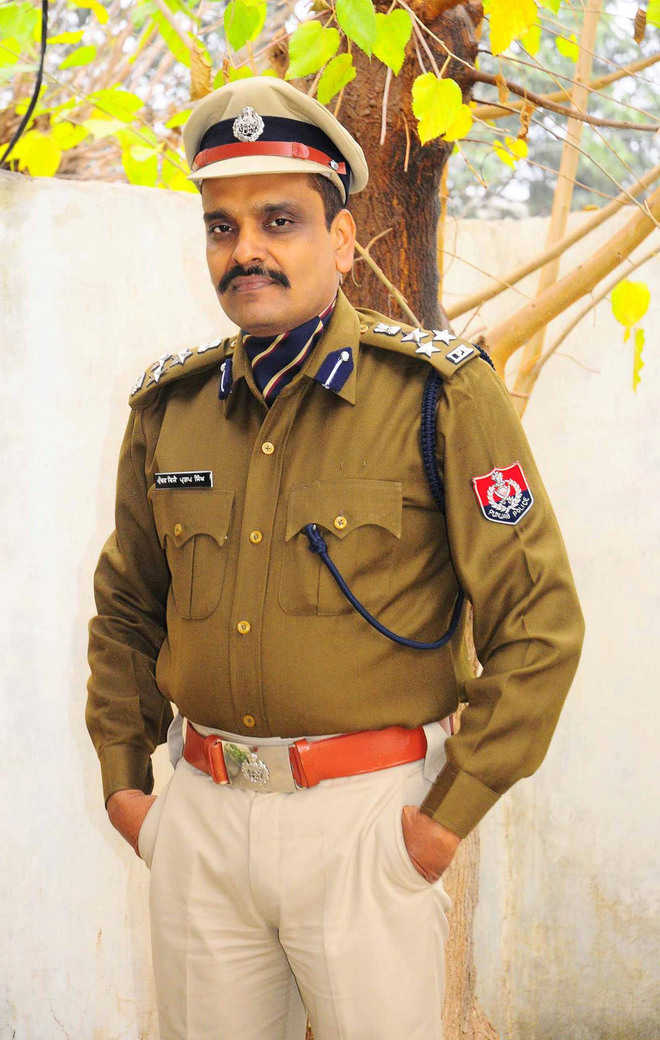 Nikhil Bhardwaj
Tribune News Service
Ludhiana, April 25
All claims of Chief Minister Amarinder Singh of scrapping the 'halqa in-charge' system to free the Police Department from interference of politicians seem to be not working at all. In the transfer of Kunwar Vijay Pratap Singh, Commissioner of Police (CP), Ludhiana, the party seems to have set a fresh precedent with regard to the prevalent halqa in-charge system in the Congress.
Kunwar has now been given charge of Anti-Terrorist Squad (ATS). This is not the first time he has become the victim of this system. Earlier in the SAD-BJP regime, he was transferred as Amritsar SSP and Police Commissioner of Jalandhar, allegedly due to the severe influence of senior BJP leaders in both cities.
In Jalandhar, Kunwar had served as CP for just 69 days. He was transferred after he arrested a BJP worker, Harpal, in an extortion and drug case. In Ludhiana, his stint as CP remained for 38 days only. Interestingly, during his transfer as SSP from Amritsar, some NGOs had filed a PIL in the High Court, terming his transfer as political, following which the DGP was also issued a notice.
Meanwhile, after Kunwar's transfer, the local Congress leaders are upbeat. However, there is a strong anti-Congress wave on the Facebook page of Kunwar.
A senior police official said: "The Congress cannot scrap the halqa system. Everybody knows the CP was transferred as he refused to dance to the tunes of the ruling party leaders, who approached the CMO to seek his transfer. This is called the halqa system".
One of the FB post on Kunwar's page by Simarharleen Singh reads: "There are a few people who didn't let the honest guy work. Kunwar was the CP of Jalandhar but corrupt politicians did not let him work and now also the same thing has happened here. There is no place for an honest officer. To hell with this political system. My dear, there is no suitable place for an honest officer like u in India".
A post by Ajay reads: "Corrupt political people did the same again after Jalandhar. Public support makes politicians but after coming in power, they forget about the public and they want to do DADAGIRI, and DADAGIRI was not possible under ur command. Shame on this system".
Hargobind Tiwari posted: "I was really impressed with Capt Amarinder Singh on the appointment of Kunwar as police commissioner but now I found that Capt Amarinder Singh is only a politician. What is an honest person or honesty that doesn't matter in politics".
Lalit Mohan Prashar writes: "It is a sad state of affairs that once again politicians have won over an upright officer who wanted to change the feudal style of Indian democracy".
Anil Pal Singh Shergill writes: "Good job sir. I am waiting for the day in India when Hon'ble Prime Minister ensures a minimum period of posting free from political interference..."
The DGP Punjab, Suresh Arora, recently awarded the DGP Commendation Disc to Kunwar in recognition of his services during the elections, especially in ensuring gangster-free elections.
On the allegation of AAP that the transfer of Kunwar was due to the prevalent halqa system in the Congress, Congress MLA Bharat Bhushan Ashu said the halqa system was abolished completely by his party. Kunwar has been transferred as his expertise is required in the newly formed ATS, and in his place, the government has posted a competent officer, RN Dhoke, not any incompetent one. "Kunwar was the best officer. Local leaders have no say in his transfer. The STF and the ATS are such units which required expert officers like Kunwar to fulfil the commitment to eliminate drugs and gangsters from Punjab," he said.
Kunwar writes on FB
"I am thankful to each and every individual who supported me in my endeavour to bring transparent and participative policing. I utilised each and every moment (38 days x 24 hours x 60 minutes) of my stay in Ludhiana to ensure justice for every single citizen".
Initiatives taken by Kunwar
Revision of thana limits, numbers declines to 22 from 28.
One month free from traffic challans as a goodwill gesture.
Single window for grievance redressal at CRPC.
Police station jurisdiction no bar for lodging FIR.
Plans to make Ludhiana a horn-free city in June.
FIR registration at police Sanjh Kendras to reduce burden on police stations.
Verification of weapons deposited during the elections.
Dhoke to focus on crime prevention, detection
Commissioner of Police RN Dhoke, who assumed charge on Tuesday, after getting relieved from charge of IG Headquarters, said his focus would be on crime prevention and crime detection. "Police officers will be accountable to the department as well as to the public. Our priority will be the public and if they are visiting any police officials, they will be heard first and their complaints will be disposed of in minimum possible time," he added. On the recent initiatives taken by Kunwar, he said he would discuss all recent decisions taken by his predecessor and whatever best possible, the city police would do that only.
Top News
The swearing-in ceremony of the 56-year-old leader is held a...
Speaking at the BJP Parliamentary Party meeting, he credits ...
Police detain friend who backed out of marriage
To the author, the 13th President of India was Baba, a worka...
Congress leaders sense 'BJP hand', question 'timing' and 'mo...