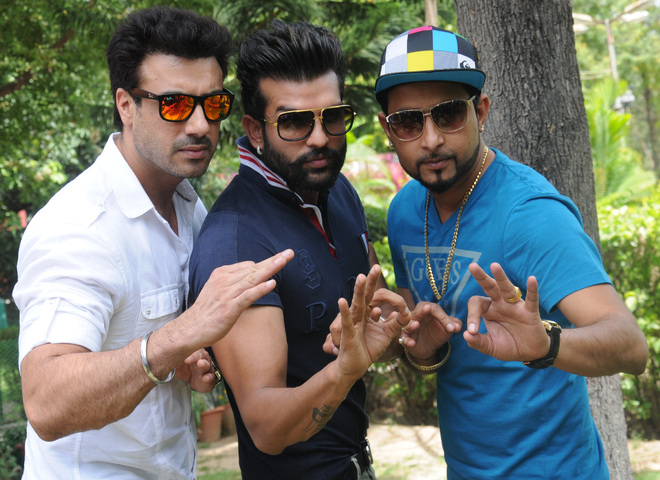 Mona
Three friends, three favourites — player: Messi; Team: Manchester United and film: Yaarana! Well, the last one might vary but till April 24, the trio — Gavie Chahal, Geeta Zaildar, Yuvraj Hans — have one aim. To promote their Punjabi film that hits screens this Friday. The three were in Chandigarh, looking dashing in their glares, hugging, shoving, praising as well as pulling each other's leg.
"Football sadi heroine hai," laugh away the boys, too happy to have been part of a sports flick. While Gavie enjoyed double shifts shooting both for Yaarana and Sako 363, bathing in his vanity, catching up for a nap in the car; for popular singer Geeta Zaildar, the best had been shooting for the song with his heroine; while sporty Yuvraj enjoyed shooting the climax in the hot-humid June and July.
The film has Yuvika Chaudhary, Kashish Singh, Rupali Sood, Yashpal Sharma, Gulchu Jolly, Dolly Minhas and Puneet Issar in the cast and has been helmed by Ranbir Pushp.
Says Ranjana Kent, one of the producers who had also co-produced films in both Pollywood and Bollywood earlier, "We have made a beautiful film, hoping for the audience to receive it well." The producer wishes that Punjabi cinema gets organised like its counterparts.
As for heroes, see Gavie in Hindi film Chalk n Duster next and Punjabi-English venture Pinda Vichon Pind Sohni Da, titled Homeland in English. Yuvraj is happy bringing his two Punjabi ventures Munde Kamaal De and Canada Di Flight. Geeta Jaildar is releasing his single, LA, next and aiming at a serious number soon after.
Meanwhile, catch them in Yaarana, "Our film has a very strong story line, which will sure amuse you. Hasde, kherde baahar aayoge (you will come out laughing and playing), promise the guys arms in arms!
Top News
Gets invite from Guv to form govt | Swearing-in likely on De...
Focus likely on J&K bifurcation into 2 UTs, Assembly poll
BJP says UT has witnessed unprecedented development after ab...