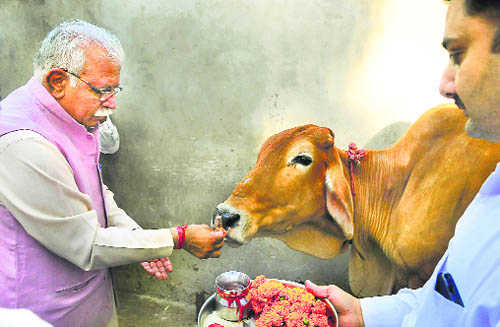 Ravinder Saini
Tribune News Service
Rohtak, November 12
President Pranab Mukherjee has accorded his approval to the Haryana 'Gauvansh Sanrakshan and Gausamvardhan Bill, 2015'.
The cow protection Act will not only clamp a complete ban on cow slaughter in the state but also ensure a rigorous imprisonment and penalty for violators.
Haryana Chief Minister Manohar Lal Khattar disclosed this while interacting with media-persons on the sidelines of 'Vishwakarma Jayanti Samaroh' organised at Kaath Mandi in Meham town here today.
"The Haryana cow protection Act has come into force from today as President Pranab Mukherjee has approved the Bill. We have enacted nation's stringent law against cow slaughter. It will ensure protection and upkeep of the cattle, which has great reverence in the country since ages," said Khattar.
Notably, the Gauvansh Sanrakshan and Gausamvardhan Bill-2015 was unanimously passed by the Haryana Vidhan Sabha in Budget session with voice vote in May. Both the INLD and Congress parties had also supported the Bill.
The Act, which is non-bailable, states that any person found guilty of cow slaughter would be imprisoned for not less than three years and may extend to 10 years. The fine imposed would not be less than Rs 30,000 and may extend up to Rs 1 lakh. If the fine is not paid, an additional jail term of up to one year may be imposed.
"If any person who attempts to export cows for slaughter would be imprisoned for three to seven years and a fine in the range of Rs 30,000 to Rs 70,000. In case of default in payment of fine, an additional imprisonment that may extend up to one year can be imposed," reads the Act.
Under the law, no person shall export cow for the purpose of slaughter either directly or through other person.
Top News
Public has returned Rs 3.42 lakh crore or 96 per cent of the...
This comes amid a diplomatic row between India and Canada ov...
Doraiswami was on Friday stopped by a few radicals from ente...
Rinda died due to alleged drug overdose at a military hospit...
Protesters were holding their agitation against the Centre i...