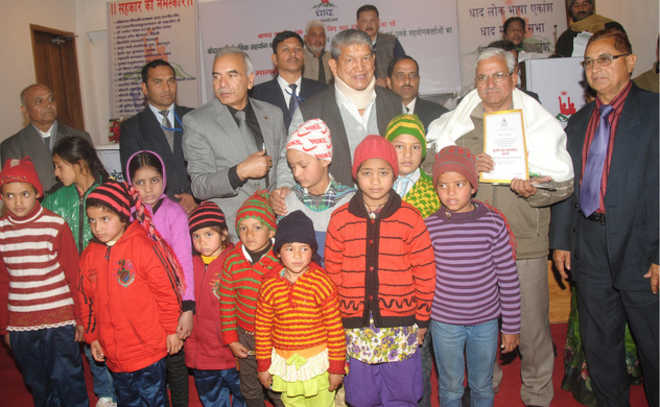 Tribune News Service
Dehradun, January 11
The Uttarakhand Government has set up a fund of Rs 5 crore for disaster-affected children of Kedarnath. Further, a revolving fund of Rs 5 crore has been constituted for self-employment opportunities for those affected by the Kedarnath disaster.
The Chief Minister made this announcement while attending a function organised by cultural organisation Dhaad in Dehradun today. Rawat said his government was very sensitive to the concerns of those affected by the disaster. He said the plight of the children affected by the disaster cannot be put in words. He said the disaster had affected the children and women in the state immensely. Rawat expressed the hope that Dhaad will be an inspiration for other organisations and individuals to come forward to help those affected.
Referring to reconstruction work at Kedarnath, the CM said over 200 people were working here despite —5°C being the temperature at Kedarnath as of now. Despite challenging conditions, a helipad was constructed and a helicopter MI 26 landed here at such a height. The CM assured that Kedarnath would be completely organised in about 2 years.
The Chief Minister said Uttarakhand was a fast-developing state. "Our income per person is much higher than that in other states. Poverty is also a reality here," he said. "Earlier, we all used to be connected to our villages, but now, after coming to the cities, things have changed," Rawat held. He said the state government had introduced several schemes such as Mera Gaon, Mera Dhan, which will help connect people of Uttarakhand to the place of their origin.
The Chief Minister honoured Dr Vimal Nautiyal, Pyarelal Uniyal and Dr Swadesh Bansal for services rendered to disaster victims. He felicitated a number of NGOs who did charitable services in the state's disaster-hit areas.
The Chief Minister's wife Renuka Rawat handed over an assistance of Rs 50,000 to Dhaad. Prithvipal Singh Chauhan, Lokesh Nawani, Pyarelal Uniyal, Kamla Pant, Deepa Jugran and Kiran Khanduri were present on the occasion.
Top News
Lhonak lake breaches banks after cloudburst, triggering mass...
About unifying the Armed Forces: A theatre command entails h...
Third party leader to be arrested | BJP says Kejriwal 'real ...
Slams arbitrary exercise of powers under PMLA