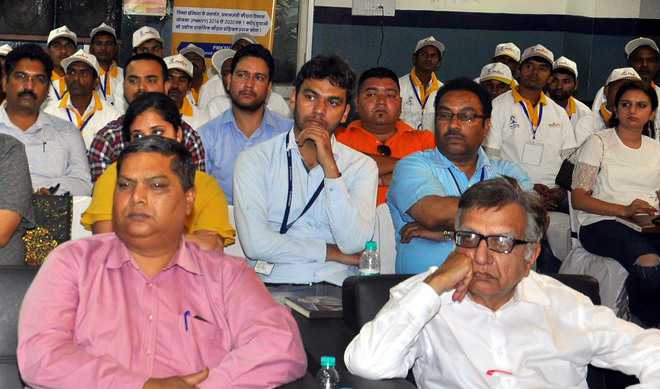 Tribune News Service
Ludhiana, May 9
The Apparel Training and Design Centre (ATDC), vocational training provider for the apparel sector, launched the first 'Recognition of Prior Learning (RPL)' programme' under the Pradhan Mantri Kaushal Vikas Yojana (PMKVY), on the factory premises of KG Exports here today.
The programme was held in collaboration with the National Skill Development Corporation (NSDC).
"Recognition of Prior Learning (RPL) is a robust platform to provide recognition to the skills acquired through informal learning, to get acceptance on a par with the formal levels of education or skill development. The RPL is a process of assessment of an individual's prior learning to give due importance to 'learning' as an outcome of the job, rather than learning as a process, not necessarily directed at economic activity," said Darlie Koshy, CEO, ATDC.
A 12-hour orientation workshop was held during which workers who had no formal training in their field were addressed. In India, less than five to seven per cent of the workforce is trained. Workers were given tips on hygiene, fire-safety measures and operation of industrial machines etc during the workshop. A certificate was also given to them.
In his address, Darlie Koshy said, "For a country like India, RPL is a necessity. Considering the abysmal situation of formal training, prior learning through skills developed on the job being assessed and evaluated later followed by top-up training by the ATDC through third party certification is a welcome step."
Rajat Bhatnagar, State Engagement Officer, National Skill Development Corporation (NSDC), said, "The Indian apparel industry has seen an upward surge in demand in the past few years and the industry is growing. However, the sector still has to realise its huge potential. Despite a huge workforce, the industry is marred by relatively low-productivity levels and faces tough competition in the exports market from Bangladesh and China. Hence, it is imperative to identify skill gaps in the industry and train the existing workforce under the RPL programme to enhance their productivity. In addition, the programme provides formal recognition to people with specific abilities and gets them certified as per the industry standards."
Top Stories