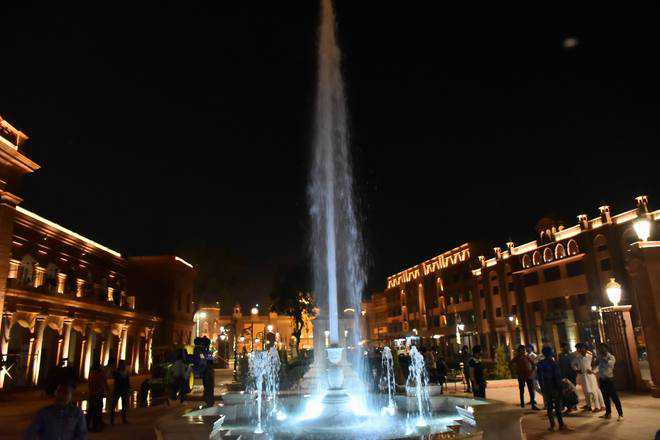 Shreyasi Thakur
Tribune News Service
Amritsar, October 25
When Anoop Bartaria, the architect of the Heritage Street leading to the Golden Temple, first came to Amritsar, his impression of the area was rather grim.
"Frankly, it looked shabby, with billboards all over the place, small shops with big flex boards and a mesh of wires hanging overhead. Footpaths were nowhere to be seen, despite the huge footfall of tourists," he recalls. "The city's strengths, including its heritage, were overshadowed by the haphazard urbanisation."
In about 330 days, the facade, along with the street that leads to the shrine, has been refurbished. The idea was to give the place a vintage look, reminiscent of Amritsar that existed 400 years ago.
According to the Rajasthan-based architect, beige, white and red are the dominant colours. "The place has the essence of Maharaja Ranjit Singh's era, pre-Independence Jallianwala Bagh and BR Ambedkar's times," he adds.
The area has now become encroachment-free. A congested road has given way to a wide lane, with zigzagging red and grey tiles. The hanging wires have been mostly laid underground. Fancy lamps dot both sides of the street and the shops have been given a uniform look, giving the feel of a movie set. Whether it is Bawa Kulcha, Chhoti Hatti Kirpan Wale, Bittu Punjabi Jutti or Chacha Lassi Wala, their boards no longer fight for attention.
The exercise wasn't easy, recalls Bartaria, "We couldn't shut the traffic for a single day. About 170-odd public properties were to be revamped by the state machinery. Some people were ready, others were not. They had to be thoroughly convinced."
Opinion is divided over the beautification drive. Some argue that the grandeur has eclipsed the soul-stirring serenity of the place. Others opine that Deputy CM Sukhbir Badal has succeeded in giving shape to his vision.
Some shopkeepers, especially in the bylanes, feel that their shops' visibility has decreased. Kuljeet Singh (75), who claims that his 'paapad' shop is 300 years old, is furious: "Laal pathar di jaali laan naal tidd nai bharda. Karobar thapp ho geya. (A redstone mesh can't fill our stomachs. Our business has been badly hit)."
In contrast, Sahil (19), who runs his late father's "phulkari" shop, says the place now looks spick and span.