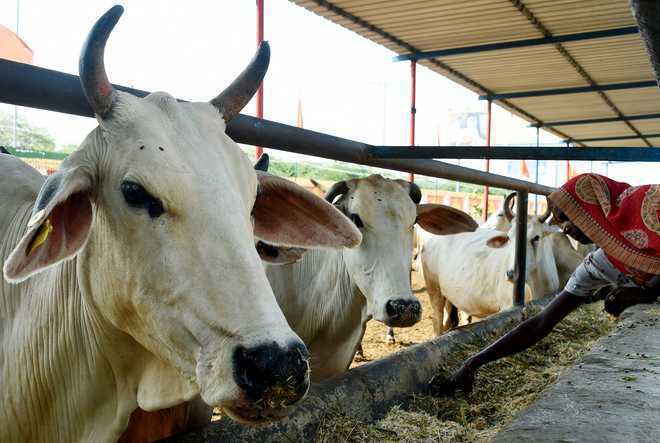 harinder@tribunemail.com
Rajiv Sharma
I AM the epitome of faith and devotion for the masses. Politicians use my revered persona to gain access to the corridors of power. Self-styled vigilantes have entrusted themselves with the task of safeguarding my rights by running amok and violating human rights. Shrewd entrepreneurs uncannily encash my name by selling products boasting of my secretions. I am the holy cow trying to forage my sanctity and identity in today's commerce-driven society that means business.
Once the last drop of the nutritious elixir is squeezed out of my udder, the milk of human kindness dries up and I am left to fend for myself. I am pushed out of the countryside to make sure I may not gorge myself on the green fodder in the fields to upset the applecart of commerce.
Used to the placid life of the village, the intricate maze of roads and frantic pace of the city is too much to handle for me. But I don't have the option or opportunity to complain or whine. I can only wait by the roadside and watch the incessant flow of traffic with tears and dust in my eyes. Constant blaring of the horns has made me almost stone-deaf. I have nowhere to go but still I keep walking from one pavement to the other in search of food and water.
Being alone is fraught with the danger of being thrashed or injured. Therefore, I have joined a herd of like-minded and like-bodied cows who are also creatures of circumstances.
Leftover food in the heaps of garbage is the only ray of hope to survive in a country grappling with the problem of storing surplus foodgrains. But rummaging in the garbage comes at a price. Recently, a cow died after eating out of garbage. Doctors found 3 kg plastic bags in its intestines during autopsy which resulted in obstruction and led to its untimely demise. Although most of us have emaciated to the bones, we somehow manage to walk street after street in search of greener pastures. God-fearing men and women come to our rescue by offering us a bite or two before feasting on a plateful of delicacies themselves during holy days.
Virulent packs of dogs are our fiercest enemies. They consider us outsiders in the territories they have ruled for years. But eventually they have relented to our obstinacy to let us settle down amicably in their domain.
Now, I hear we have become an important figure on the political scene and the government has imposed cow cess to improve our plight. Till then, I have decided to eat frugally, chaw on an empty stomach under the canopy of the vast sky and assure my clan to wait for the better days ahead.
All readers are invited to post comments responsibly. Any messages with foul language or inciting hatred will be deleted. Comments with all capital letters will also be deleted. Readers are encouraged to flag the comments they feel are inappropriate. The views expressed in the Comments section are of the individuals writing the post. The Tribune does not endorse or support the views in these posts in any manner.
Top Stories
Expectations were high from PM Modi & party, but little has ...