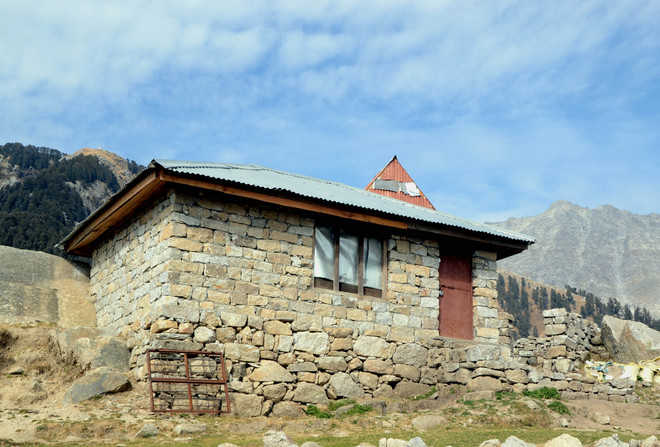 editorial@tribune.com
Lalit Mohan
Tribune News Service
Dharamsala, December 5
Illegal constructions are coming up with impunity on the forest land around the world famous trekking site Triund located about 20 km from here. A survey by The Tribune team revealed that many buildings were coming up in the vicinity of about one-km from Triund forest rest house. The land around Triund is demarcated as forest land and is owned by the government.
Inquiries revealed that the buildings were being brought up by locals to cater to the growing number of trekkers and tourists thronging the Triund site.
To reach Triund one has to trek about seven km from Dharamkot, where the motorable road ends. The trek ends in a lush green plateau at the top of mountains. From the Triund the majestic Dhauladhar mountains rise steeply and one gets a feel of being at the foothills of the snow-clad mountains.
The trek has become so popular among the domestic and foreign tourists that this year the administration had to enforce measures to regulate the numbers of tourists visiting the site. The district administration capped the numbers of tourists visiting the site to 500 per day and also directed them to bring back empty plastic bottles and other solid waste being carried along.
The growing number of tourists has also encouraged some locals to encroach upon the forest land around Triund and bring up illegal constructions.
Recently, a case came to the fore in which a local allegedly in connivance with some revenue officials got forest land near Triund transferred in his name. The matter came to light when the person applied to the Forest Department for demarcation of the land. Forest officials were surprised to find that a privately owned land had come up in the middle of the demarcated forest. An inquiry was instituted and the record was set straight. The revenue officials involved in the transferring the forest land in the name of individual was put under suspension.
However, the sources here said that similar cases in forest land having been transferred in the name of individuals are still there in and around Triund. DFO Dharamsala, Praveen Thakur, when asked to comment on the encroachments in forest land, said that they would send a team of officials and remove all the encroachments. He further said, "The officials of the forest and revenue department are screening the records to find as to how private lands have cropped up in the middle of demarcated forest in Triund area."
Private buildings coming up near Triund are also a threat to the fragile ecology of the area. Solid waste generated by a large number of tourists and trekkers visiting the area generally remains scattered there. Some local and foreign NGOs had worked to clean the area of solid waste. However, their efforts were not enough and the waste is piling up at the ecologically fragile spot.