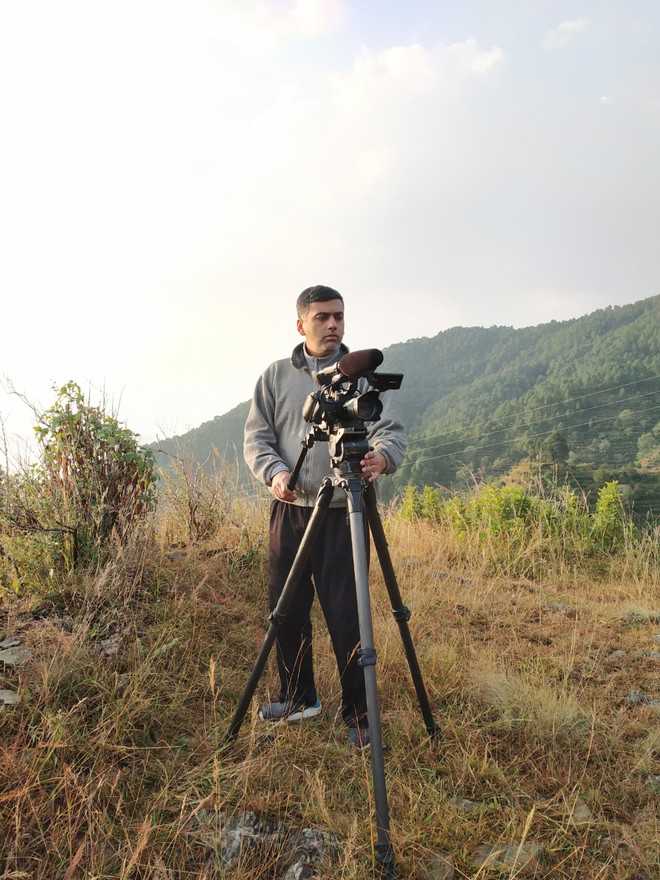 editorial@tribune.com
Mona
Suddenly the world is interested in a small Himalayan village and Nirmal Chander is a happy man. Why? His documentary Moti Bagh is a direct entry to Oscars! He is also happy at all the attention that his protagonist, 83-year-old Vidyadutt, Sharma is getting.
An activist, farmer and poet, Vidyadutt is happy tending to his five-acre farm, Moti Bagh, in a small village of north India, while around him are 7,000 ghost villages – a chilling testimony to large scale migration! That Nirmal's roots lie in the same region got him interested in this story. "These are strange times; those in urban areas are looking for quaint corners in the hills, while villagers are abandoning their homes in search of a living."
Armed with a camera
While Nirmal's own house, not very far from Moti Bagh lies closed, he travelled across the country as his dad was in the Air Force. Starting as sports editor, he found his passion in documentary-making and he has been at it for 20 years now. It was during his college days that he got interested in his roots and armed with camera, found a story worth telling in Vidyadutt Sharma, who has been an inspiration to those who claim the lands are barren. "Lately Vidyadutt Sharma grew a mula (kind of a radish) which weighs 22.75 kg, making a national record," he says.
The 59.23 minutes documentary chronicles life of this zealous farmer, his son's idea of keeping life in the hills alive and their Nepali farm-hand Ram Singh's take in an effort to restore Moti Bagh to its old glory.
Great platform
While each year, a work of fiction makes it to the Oscars from India, this is not a privilege enjoyed by documentaries. This year, Moti Bagh winning Best Long Doc, International Documentary and Short Film Festival of Kerala, 2019, got it an entry to the Oscars. "It is about time non-fiction also found a platform as huge as Oscars," says Nirmal, who cares little about winning or losing. "The subject is close to my heart and now that the world notices it, I already feel vindicated."
His love for documentaries has brought him laurels, in fact two National Awards for documentaries Dreaming Taj Mahal and Zikr Us Parvarish Ka, on Begum Akhtar, in 2012 and 2016, respectively.
Up next
As Moti Bagh charts its Oscar journey, Nirmal is ready with his next on Annapurna Devi, a classical instrument player, "It is another story of a woman who survived in the male-dominated classical instrumental field," says Nirmal, who promises to bring his Moti Bagh to Chandigarh soon.
Juliet revisited
Along with Moti Bagh, Janani's Juliet, directed by Pankaj Rishi Kumar shared Best Long Doc at International Documentary and Short Film Festival of Kerala, 2019. It is also the second entry for Oscars from India. Kumar, an editor and director, documents an intimate view of a theatre group as they rehearse a politically charged rendering of Romeo & Juliet, reworking it into the real-life matrix of caste, class and gender in Janani's Juliet. "It is an honour," said Kumar about Oscar entry, "I am glad that an issue like honour killings would be shared at an international platform," he added.
Cities