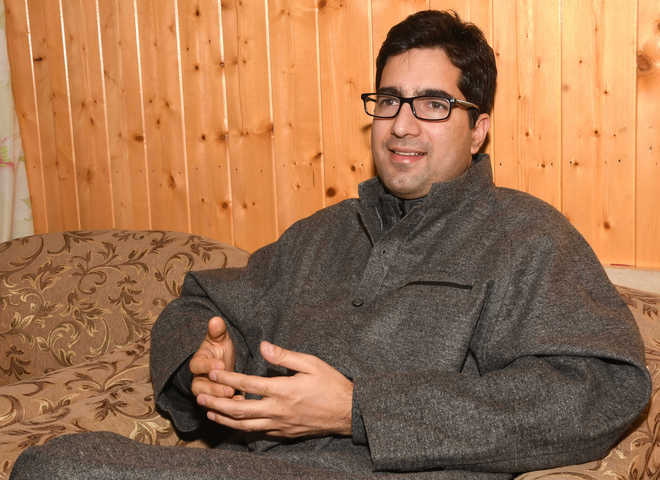 Amit Khajuria
Tribune News Service
Jammu, March 30
After launching his own political party, Jammu and Kashmir Peoples Movement (JKPM), IAS topper-turned-politician Shah Faesal reached Jammu on Saturday on his first visit to reach out to the people of the region.
His visit, according to Faesal, is to make relations.
In an exclusive interview with The Tribune, Shah Faesal showed satisfaction over the response his party got from people of Jammu.
"The idea of coming to Jammu is not to get votes but to understand the issues and make relations, as our party is not a region-specific party. It is a party of people of all regions of the state."
"Initial response from the people of Jammu is extremely encouraging. I have been getting a number of calls from the people of Kathua, Samba, RS Pura and Nowshera. We got unexpected response from both youth and elderly people," he said.
Faesal said people had realised that the need of the hour was that politics of brotherhood, politics of unity should be encouraged.
Calling the present scenario of politics 'full of corruption' he said, "We do not talk about basic issues of the people, poverty, underdevelopment, lack of education facilities, inadequate maternity and child care. But we are talking about something which has nothing to do with the poor people."
Faesal is more confident in his new role and believes that he can serve the people better as a politician. "Bureaucracy has its own role. It can't take the role of the politician. We are living in a democracy where will of the people is extreme and politicians, MLAs, MPs and ministers have the final say on the policy," he said adding, "Their impact is bigger in a democracy. So it was important for me to come into this field to ensure change on a larger level." Faesal's party is not contesting Lok Sabha poll but it is preparing for the forthcoming Assembly elections.
Top Stories