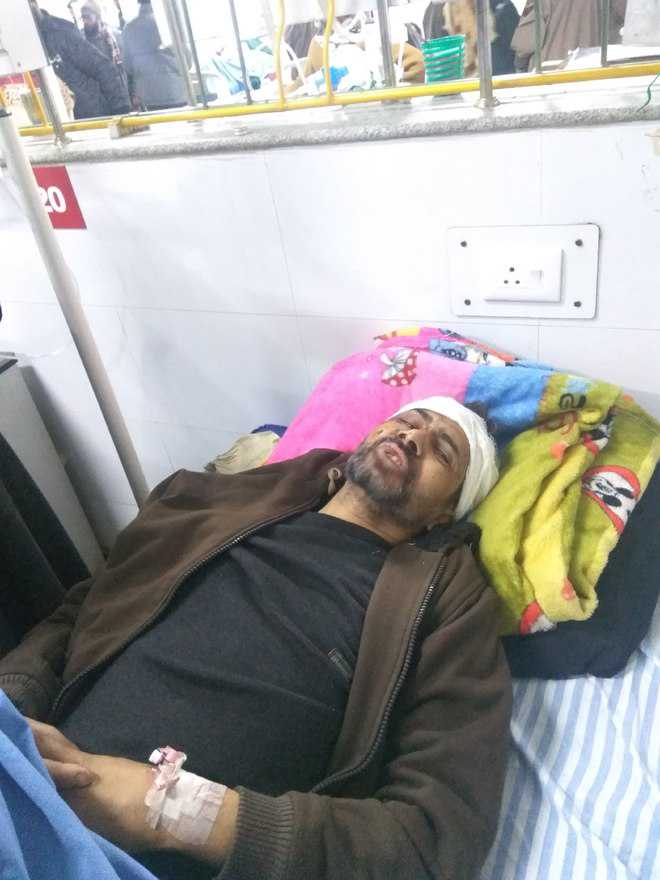 Samaan Lateef
Tribune News Service
Srinagar, January 7
For seven hours, Ghulam Nabi Bhat (50) was under snow after the vehicle he was travelling in was hit by an avalanche in Kupwara district.
Bhat is the only person to have been pulled out alive after an avalanche hit a stranded vehicle at Khooni Nallah on the Kupwara-Tanghdar road in north Kashmir on Friday. The bodies of six other passengers have been recovered after 48 hours of the extensive joint rescue operation of civilians and the local administration.
In the surgical emergency ward of the SK Institute of Medical Sciences (SKIMS), Srinagar, Bhat is writhing in pain but talking. He recalls the horrible moments of his struggle for survival. "Only my nostrils were in the open, which allowed me to breathe for some time," Bhat said.
He was on way to Tanghdar where he runs a stationery shop. The vehicle was stopped by the government authorities at Khooni Nallah, where the road was blocked due to snow. The driver and another passenger came down from the vehicle to check the condition of the road. However, when the driver came back, he didn't find the vehicle. An avalanche had forced it down 200 ft into a deep gorge.
While the vehicle was rolling down, many passengers, including Bhat, were thrown out. He remained buried under a huge mass of snow in a semi-conscience state.
As the darkness descended, Bhat lost hope of being rescued. "I kept my eyes open and ignored the pain. The toughest moment was when I realized that I am completely alone in the dark," he said.
Bhat said he could hear some people coming towards him. At 10:30 pm, Bhat was spotted by the rescuers and pulled out of the snow. The rescuers helped him reach the road at 3:30 am on Saturday.
Bhat suffered a concussion, a fractured ankle, a broken shoulder blade and bruises on his face. "The incident reminds me of my insignificance... of all men's insignificance. It is a beautiful feeling to be humbled," he said.
Clamour grows for Sadhna Top bypass
Srinagar: While the Karnah region, tucked in a remote corner of Kashmir, is mourning deaths of 11 persons in an avalanche, locals are demanding construction of a tunnel on the Kupwara-Tangdhar highway to bypass the Sadhna Top. "The people have been demanding a tunnel on the spot to bypass the Sadhana Top," said Liyaqat Ali, a lecturer from the Tangdhar area, claiming that 185 people had lost their lives on the road leading to the Sadhana Top in the past over five years in accidents and avalanches. The strategic road has already been declared a national highway, but it is in a bad shape, especially from the Nastha Chun Pass, popularly known as the Sadhana Pass. It is the only entry into the Karnah valley. On Saturday, when the bodies reached the Karnah tehsil, hundreds of people assembled there and started a protest demonstration, demanding construction of a tunnel on the road to bypass the Sadhana Top. Till the late 1990s, the road would remain closed for over six months during winter and now it remains closed for over a fortnight. Every winter season, it snows at least 20 feet at Sadhana and even if the road opens, it is risky to drive to Tangdhar. Accidents are common on the road stretch. tns
Top Stories