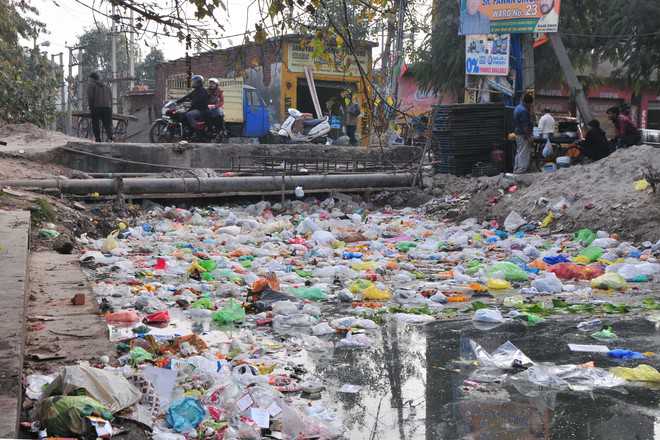 Vikram Sharma
Tribune News Service
Jammu, December 30
Jammu Municipal Corporation (JMC) mayor Chander Mohan Gupta said in its first endeavour to make Jammu a smart city, the civic body would be launching a strong polythene-free drive next year.
"In 2019, my first initiative will be to take up a holistic drive against polythene for which a comprehensive plan has been laid out. Like many other states in the country that have become polythene-free, we will be taking up the drive in all wards of Jammu city," Gupta said while talking to The Tribune.
The mayor said for the process, seven wards would be taken up in the first segment of the anti-polythene drive and awareness programmes had already been launched by the corporators.
He said the civic body had also been asked to increase the number of employees so that the sanitation work doesn't suffer.
"Two days ago, I held a meeting with a few shopkeepers at a warehouse and asked them to stop the use of polythene. Besides, we have sent a strong message to them to stop polythene use and switch over to eco-friendly bags," the mayor added.
He said the corporators of the first seven wards were asked to work in tandem and pay regular visits to their areas and ensure that no shopkeeper was using polythene bags.
He said children in these wards are also made aware of the ill-effects of polythene and were asked to advise their parents not to bring plastic bags home.
"We have also pressed load carriers into service in all wards for daily lifting of garbage and dumping it at the Bhagwati Nagar site. Wherever the load carriers cannot reach, we have roped in hand-driven carts. Moreover, the sanitation workers have been directed to remove the garbage directly to the venue," the mayor added.
Top News
Justice Dinesh Kumar Sharma denies the relief to the AAP lea...
The accused was in a relationship with the minor, but they h...
Locals, CRPF and police personnel rush to the spot and launc...
Jude Chacko, hailing from Kerala's Kollam district, was gunn...