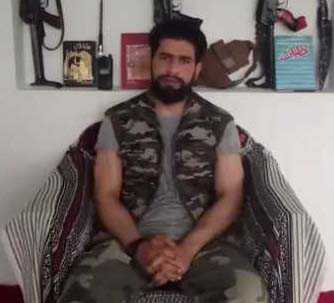 Azhar Qadri
Tribune News Service
Srinagar, May 13
Islamist militant Zakir Musa on Saturday quit the pro-Pakistan Hizbul Mujahideen as his recent statements, which vowed a fight for establishment of caliphate, sparked furious ideological debate within the region's separatist and militant blocs.
Announcing his decision to quit Hizbul Mujahideen, Musa vowed to continue fight for "freedom for sake of Islam" in a latest audio message that was released on social media sites. The announcement came a few hours after the Pakistan-based militant leadership termed his threat to separatist leaders as his personal opinion.
"I stand by my statement and from today onwards I am not associated with any group and it will be seen in future who is with me and who is not with me," Musa said as he repeatedly reaffirmed that he was committed to "fight India and then implement Islamic rule here."
"Hizbul Mujahideeen has said they have nothing to do with my statement. So, if Hizbul doesn't represent me then I also don't represent them. From today onwards, I have no association with Hizbul Mujahideen," he said.
Musa's decision was rooted in the recent war of words between him and the separatist politicians, who had issued a joint statement, delinking Kashmir's separatism from global jihadi movements and termed it as "indigenous". As Hizbul Mujahideen's Pakistan-based leadership came in to mediate, it backed the separatists and attempted to silence Musa.
However, Musa has proven to be outspoken, overtly radical as well as belligerent. He has released a series of videos and audio messages in recent months in which he initiated an ideological debate surrounding the roots of the separatist movement in the region.
Musa quit engineering studies and joined militant ranks in July 2013. He succeeded Burhan Wani as commander of a militant unit operating in south Kashmir's Tral sub-district. Musa's statements were continuation of Burhan's call for establishment of caliphate "in Kashmir and all over the world", reaching a high-point this week when separatists and Pakistan-based Hizbul Mujahideen leadership openly condemned his pro-Islamist and overtly jihadist statements.
In his latest remarks, Musa had threatened to "slay and hang" separatist leaders who oppose the establishment of Islamic rule in Kashmir. "If the intention of (Syed Ali) Geelani and others is freedom for Islam and imposition of Islamic rule after freedom, then I am not against them," he said.
Musa said the separatist movement was "not any secular freedom struggle but an Islamic struggle". "I am fighting for freedom for Islam. My blood will spill for Islam and not for secular state," he said. It is not immediately clear if Musa is alone in quitting Hizbul Mujahideen or has been joined by other like-minded militants. He has been in the militant ranks for last four years and is one of the most senior militant operating in south Kashmir — where he is known to wield significant influence.