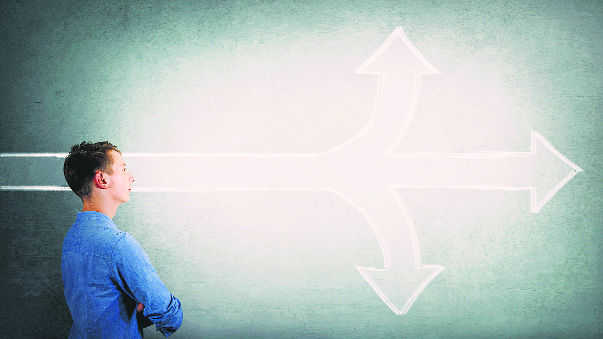 Q.I'm in Class XII, but I still don't know anything about my future studies. What to do and what are the different courses. I'm totally confused. — Harsh
A. As with most young people your age, you're confused and unsure about what exactly you want to do, which is perfectly normal.
Statistically, 80 per cent of working people in the world are unhappy in their current job role — a rather disturbing revelation that makes choosing the right career one of life's most important decisions. Also, perhaps the most difficult. When it comes to career planning, failing to plan is planning to fail. For the simple reason that a satisfying career is determined by choice, not by chance.
How then do you choose? The sheer number and variety of options is so bewilderingly vast and diverse. What's more, new fields, institutes and opportunities keep emerging with unfailing regularity, while yet others become obsolescent which further compounds the confusion.
Well there are several ways people go about choosing a career. You can follow family tradition, you can do what your friends are doing, you can take the first option that comes along... or you can select an appropriate field that best matches your interests, values, and aptitudes. The latter option is not only sensible and logical, but will keep you motivated and help you scale your professional ambitions.
Assess your interest level. You can do this by examining the areas of your life and identifying activities and fields you are interested in.
Which subjects do you like best?
Have you any special talents or abilities? What are they?
What activities do you do in your spare time?
Have you any special hobbies?
Each one of us has some form of natural talent which is innately specific to us which if correctly identified and harnessed, can make for a satisfying and successful career.
I suggest you short-list careers on the strength of the match between their requirements and what you bring to the table. When these two factors are well-matched, you're most likely to succeed and enjoy pursuing that career.
From this short list, it becomes much easier to make a final choice based on the scope and financial rewards a particular career offers.
Scope in fishery sciences
Q.Besides doing an MSc in the subject, what are my prospects after doing a BSc Fishery Science? — Tribhuvan Khanna
A. India is home to more than 300 varieties of fish. Hi-tech trawling and modern processing techniques have given a major fillip to our seafood exports. India is the third largest producer of fish in the world and second in inland fish production. Besides going for higher studies (PhD) leading to further research in your field, you could look for work in government and private fishery and aquaculture units, state departments of agriculture / fisheries, research units, university training centres, extension centres of agricultural universities, nationalised/rural banks, insurance companies, seafood processing units, export houses and aquariums or even in the Krishi Vigyan Kendras.
Production, development and quality control professionals also work with manufacturers of other marine products and by-products e.g. fish meal, fish protein concentrate, fish oil, gelatine, albumin isinglass, pearl essence etc.
Fishery is the next major employment sector after agriculture. With over seven million people working in this sector, resource management is another vital area to be looking at.
Naturally, most of the work would be based in coastal areas. If you're interested in fish farming here's some food for thought. Food grain is increasingly being used for meat production. So for producing one kg beef you need seven kilos of grain, whereas 1kg of fish requires barely 1.6-2 kg of grain. Moreover, certain varieties of fish don't require feed as they survive on plankton.
You could pursue a course specifically in fisheries management or a broader course in agribusiness management offered by several B-schools, Agriculture universities including the prestigious IIM-A. After this you could be working with enterprises engaged in the production and marketing of inputs and output, providing services to the agriculture sector such as export and import, rural banking, financing agri-products, insurance, logistics, water management, R & D, and rural energy.
email your queries to careers@tribunemail.com