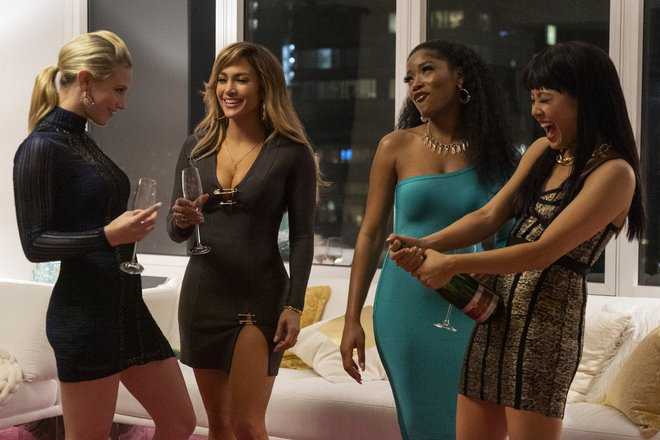 Johnson Thomas
Lorene Scafaria's crime drama tells the true story of a group of strippers, who lured, drugged and fleeced their wealthy Wall Street clients out of millions and she has a bunch of super savvy actresses to make sure this movie doesn't end up looking stagy like Paul Verhoeven's Showgirls. Scafaria's story is narrated from the perspective of working-class women affected by the economic collapse. Her script takes inspiration from Jessica Pressler's New York magazine article and even has Julia Stiles serving as a stand-in for the journalist.
The narrative opens with Destiny's (Constance Wu) first day at work—following her movements right from dressing room to the dance floor and along the way we see the other major players, Ramona (JLo), who happens to be the mastermind of their mini heist on the pockets of rich, swaggering clientele, alongside her totally involved employees Mercedes (Keke Palmer) and Annabelle (Lili Reinhart).
As the movie progresses we learn that the women are not just playing at being sex objects, they also have families to take care of and bills to pay. Destiny, a second generation immigrant, who is doing this in order to take care of the grandmother (Wai Ching Ho), who raised her, is also seen regularly rushing home from a harrowing night with a client to take her daughter to school in their suburban neighborhood. The others also have their own little crosses to bear. Destiny, to begin with isn't much of a showgirl but Ramona's command performance on the stage and skilful inputs from other experienced strippers (Cardi B) show her how powerful and lucrative this act can be. And it's a given that these ladies look out for each other.
Scafaria's narrative may be larger than life in its projection but there's a certain poignancy in experiencing the difficulties these women face — as the money suddenly runs dry and hardships begin to multiply.
Scarfaria's narration gets striking depth from the matter-of-fact treatment and technical assists from inventive camera takes. Slow-mo, zooms, montages and long tracking shots variegate the emotional impact while the accompanying pop, rock, R&B and western classical mashed-up soundtrack lends tempo and rhythm to a story that skillfully obfuscates the real and imagined, making the overall experience vibrantly entertaining. The diverse line-up of screen sirens (and JLo is just magnetic) make the strongest impact though!