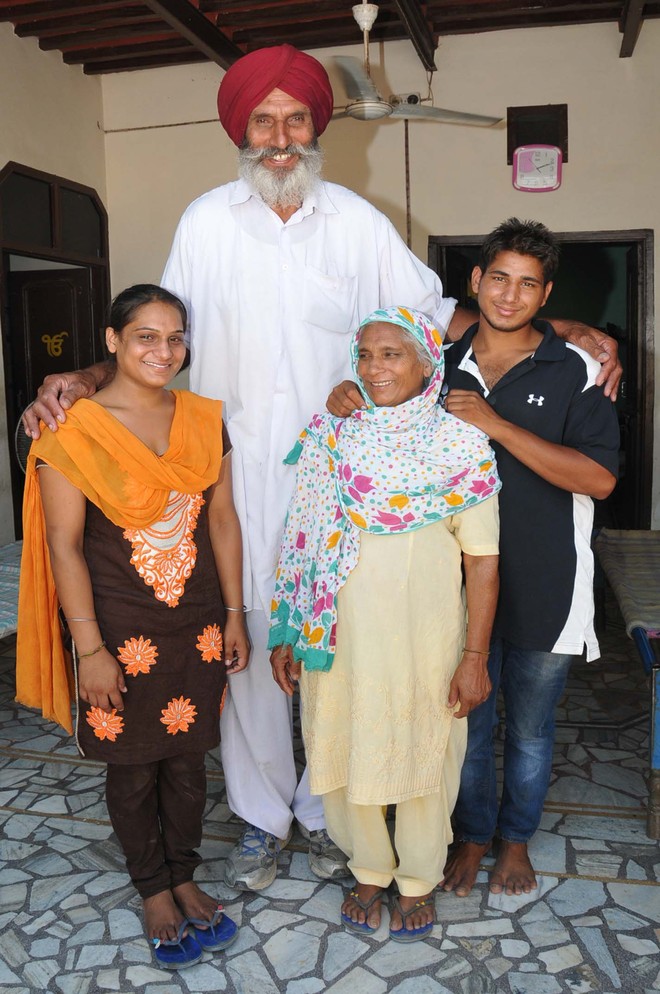 Sanjeev Singh Bariana
Tribune News Service
Ballo Ke (Barnala), June 26
Making history by becoming the first India-born basketball player to be drafted by the National Basketball Association (NBA) for the Dallas Mavericks, Satnam Singh Bhamara has done not only his family but the entire village proud.
Satnam left his home when he was nine years old. "Standing at 5' 9'' then, I knew our small boy was made for bigger things. I told my wife that he will have to leave the village which did not have any facility if he has to achieve anything big in life", said Satnam's father Balbir Singh, who at seven feet is an inch less than his champion son.
An emotional mother, Sukhwinder Kaur, standing at 5' 2'' said "Satnam's father wanted to be player himself but he could not be a sportsperson because family circumstances did not allow him to do so. Our village did not have any playground or a coach worth the name. There was nobody outside our village to provide any assistance. The nearest town, Tapa, was at least 12 kilometres away".
"My husband got support from his friend Rajinder Singh, who took him to a Bhavanigarh-based school lecturer Darbara Singh, who in turn introduced him to Mahinder Singh, reader of former DGP RS Gill. Impressed with his athletic body and height, Gill recommended him to the president of Punjab Basketball Association, Teja Singh Dhaliwal," Sukhwinder said.
Dhaliwal said "The moment I saw him I knew he was a different boy. Apart from being blessed with a sturdy body structure with broad palms, it was his commitment to learn the game which made him different from other boys".
"Coming from an average family, Satnam said he wanted nothing in his life but to pursue the game of basketball. He never indulged in any extravagant activity. In fact, he stunned everyone with his discipline," Dhaliwal said.
His younger brother Beant Singh said, "He started following the game seriously. We heard about his performance at the Asian championship at Malaysia and later at 'Basketball without Borders' in Singapore. We knew he will be at the right place the day he left for Florida in the USA in 2010".
Satnam is a darling among the residents of his village, particularly the youth. His house was crowded early in the morning when the news of Satnam's selection broke out and the neighbours rushed to congratulate the family.
Kuldip Singh, Satnam's uncle, said in jest, "I have carried him in my arms when he was a child. Now he can probably carry five persons like me! May God bless him with name and fame. He has done us proud."
Remembering Satnam, his sister Sarbjot Kaur, who has done a nursing course, said, "Due to my brother's unusually large feet, getting a suitable shoe was a huge problem. My father managed one shoe Rs 4,700 from Chandigarh in 2008. But that was rendered useless within three months."
Satnam's father Balbir Singh said, "He has completed his high school graduation. I don't know what he achieves in the future but I am sure he is on the right path and will reach the right destination".
Top News
Teams conducting raids to arrest the BJP leader
Jaishankar meets UN Secretary-General Antonio Guterres and P...
Canada is home to about 770,000 Sikhs - the highest populati...
Canada has alleged that Indian authorities were behind Nijja...