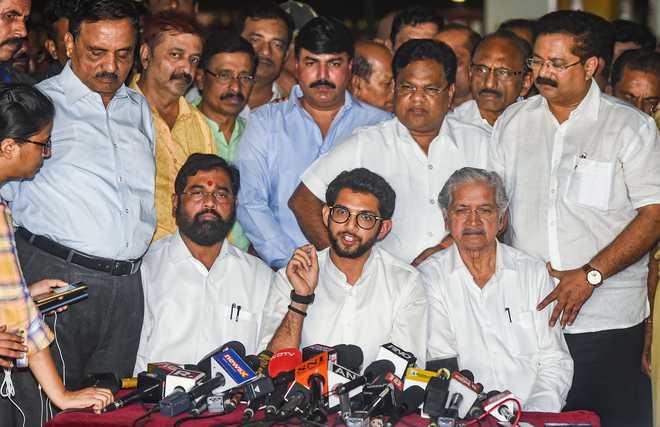 Tribune News Service
New Delhi/Mumbai, November 11
Maharashtra governor refused to give Shiv Sena more time for government formation on Monday while the Congress party kept everyone guessing about whether it would support a Sena-led government.
The Congress said on Monday that it was yet undecided about supporting a Shiv Sena-led government in Maharashtra, even as Governor Bhagat Singh Koshyari's deadline to the Sena passed without a definite answer. The Governor has now given 24 hours time to the NCP to form a government.
The Congress party's statement said on Monday: "The Congress Working Committee met this morning and had a detailed discussion on the situation in Maharashtra after which a consultation was held with Maharashtra Congress leaders. The Congress President has spoken to Shri Sharad Pawar ji. The party will have further discussion with NCP."
Meanwhile, Congress's dithering may have cost the Shiv Sena, which has been angling for the chief minister's position. Shiv Sena leader Aaditya Thackeray, who met the Governor on Monday evening, said after the meeting that the governor had refused to give the party more time to form government.
"We got a letter from the governor asking us if we could form government. We have started holding talks with two other parties. Both the parties have expressed their support in-principle to the Sena. We reached here at 6.45 pm and our expressed willingness to form government. We asked for at least two days to get letter of support. Governor has refused to give us more time, but he has not rejected our claim. We will continue this process to form government," he told the press in the evening.
The Raj Bhavan said Sena could produce "requisite letter of support".
"The Sena sought three-day extension for submitting the letter of support, but the governor declined to accept the request," a Raj Bhavan statement said here in the evening.
Less than two hours after Thackeray's statement, NCP leader Ajit Pawar called the press to say that his party had been summoned to the Raj Bhavan later on Monday evening. The NCP has been given 24 hours to express its willingness to form government. The NCP has until 8.30 pm on Tuesday to respond, television reports said.
"Governor Bhagat Singh Koshyari invited us on Monday night as the NCP is the third largest party. We will speak to our ally Congress and get back to him," NCP leader Jayant Patil said.
Congress has reservations
Meanwhile, Congress still appeared reluctant to give its support. While state Congress leaders like Balasaheb Thorat and two former chief ministers—Prithviraj Chavan and Ashok Chavan—had reportedly wanted to support a Sena-led government, it was Congress president Sonia Gandhi who still had reservations.
Gandhi is believed to be apprehensive about the political message that such an alliance would send. The Congress and Sena are ideological rivals and have differed bitterly on a range of issues, including the recent controversy where the Sena spoke in favour of awarding a Bharat Ratna to Savarkar.
Congress leaders went into a huddle with its central leadership in Delhi at 4 pm in the evening. At 7:25 pm, minutes before governor's deadline, the Congress's support still appeared uncertain.
Former chief minister Prithviraj Chavan said after a meeting of top Congress leaders with Gandhi that talks were still ongoing, but refused to say anything more.
Maharashtra Congress leader Manikrao Thakre said that two Congress leaders would be sent to hold discussions with NCP supremo Sharad Pawar.
"Neither ours nor NCP's letter has gone to the Maharashtra Governor yet. It has been decided that two leaders will be sent for discussions Sharad Pawar. State leaders will also be there. The next step will be taken after the discussion," Thakre said.
The NCP, in its turn, was awaiting ally Congress party's response. NCP chief Sharad Pawar had told the Sena leaders to wait till the Congress took a decision.
"After a meeting of our MLAs this afternoon, the NCP decided to wait for the Congress to make its move," party spokesman Nawab Malik said.
Pawar and Shiv Sena chief Uddhav Thackeray met a hotel in suburban Mumbai even as the Congress leaders were locked in confabulations in New Delhi. Sources say Thackeray called up Congress leader Ahmed Patel, who passed on the call to party chief Sonia Gandhi. After the five minute conversation, Thackeray was told to wait for the Congress party to take a decision.
Sena's hasty claim
Even before Conrgess, gave its statement, Sena mouthpiece claimed at 6:25 pm that both Congress and the NCP had sent it crucial letters extending their support to prop up a government in Maharashtra which will be headed by the Uddhav Thackeray-led party.
The Sena is the second largest party in the 288-member House—the BJP has 105 seats, Sena has 56 seats, NCP 54 and the Congress 44. Independents and smaller parties account for the rest. — With agencies