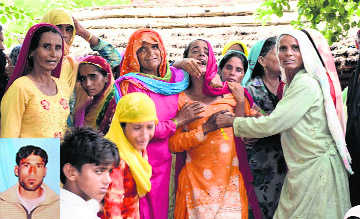 Sumedha Sharma
Tribune News Service
Gurugram, July 21
"My son Akbar Khan was a milkman, not a smuggler. He reared two cows with much love and even stayed hungry at times to buy fodder. He would have never thought of dying with such shame," an inconsolable Suleiman Khan said at their village, Kolgaon in Ferozepur Jhirka tehsil.
He made an emotional appeal to lynch Akbar's seven children too as "they would soon die of hunger anyway." He said Akbar sold milk to earn a living and was off to Alwar to buy cattle. He managed to buy two cows with all the money he had but could not afford a tempo so chose to walk back. He had called his family before starting back but when he was just 10 km away, he was attacked by a group of cow vigilantes.
"Akbar's youngest son is two years old and had said 'Abba' clearly for the first time a month ago. Akbar was so happy and promised him a grand Eidi on next Eid. We had been saving money and he had gone to Khanpur in Alwar to buy goats for Eid but managed to get a good deal on milch cows. He had spent our entire savings of Rs 60,000 on them. He had called me before leaving and said that we would now have four cows and soon our fate would change. He had promised me new earrings with the profits he expected to make by selling more milk but who knew that today I would be mortgaging my only pair of earrings to bury him. They killed my husband to save two cows but orphaned seven children," said Akbar's wife Ashmeena.
Akbar had reportedly gone to buy cattle for the first time with an "experienced" friend Aslam, who managed to escape the mob's wrath.
"I had asked him to wait till morning but he was too excited after having purchased the new cows. He wanted to be with his family at the earliest. Scared of mob attacks, all tempos refused to ferry us back and we decided to walk assuming that it would be safe. But, a Muslim with a cow is labeled a smuggler. The mob was armed with sticks. I had told Akbar to run for his life but he clung to the cows and kept telling the mob that he was innocent but they thrashed him and made videos," Aslam said.
Social activist Noordin Noor said: "We had offered to give up all cows to the government and even urged the CM to pass a law banning Muslims from keeping cows and even drinking milk. We are the biggest milk providers in the NCR and have been rearing cows for centuries but some people are out to disrupt communal harmony. They should be ashamed of this behaviour."
Top Stories