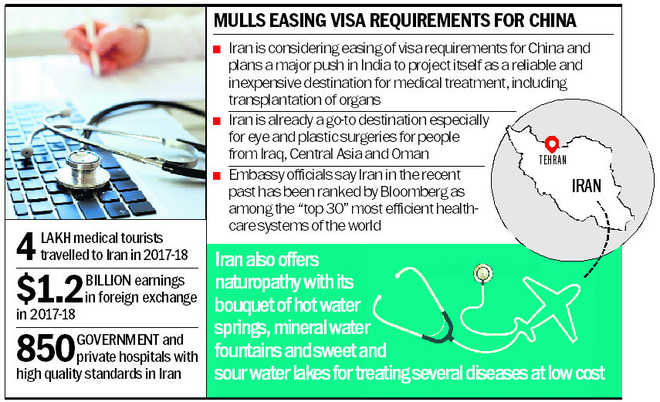 Sandeep Dikshit
Tribune News Service
New Delhi, April 1
Iran is offering itself as cheaper destination for medical tourism to beat the debilitating impact of US-led sanctions on its mainstay of oil trade.
The country is considering the easing of visa requirements for China and plans a major push in India to project itself as a reliable and inexpensive destination for medical treatment, including transplantation of organs, said senior Iranian Embassy officials here.
Iran is already a go-to destination especially for eye and plastic surgeries for people from Iraq, Central Asia and Oman. This is part of a worldwide trend where only well-heeled are opting for old-style medical tourism of travelling to First World while the others scout for inexpensive foreign hospitals manned by professionals.
On the general safety parameter, Iran ranks with the UK making it a magnet for general tourists. However, except for the Shia population, Iran holds few charms for other Indian tourists who prefer European and South East Asian destinations.
Embassy officials said Iran in the recent past has been ranked by Bloomberg as among the "top 30" most efficient healthcare systems of the world.
Unlike oil trade, payment for medical tourism is yet to become a problem though western credit and debit cards such as Mastercard and Paypal do not function in Iran. The indigenous answer — the MahCard — provides the option of transferring money from the foreigner's overseas bank account to an Iranian currency debit card.
The Iranian expectation is that medical and general tourism can net $20 billion annually and help relieve the pressure on its exchequer after US President Donald Trump rescinded the Obama-era Joint Comprehensive Plan of Action (JCPOA) and instead announced a fresh round of sanctions. Iran also offers naturopathy with its bouquet of hot water springs, mineral water fountains and sweet and sour water lakes for treating several diseases at low cost and without any side effects. Officials say Iran has over 850 government and private hospitals with high quality standards which can provide best medical treatments in various specialties.
Officials said four lakh medical tourists had travelled to Iran during 2017-18, earning it about $1.2 billion in precious foreign exchange. However, the move could pit the Iranian medical sector against the Indian medical corporates that are currently attracting medical tourists from countries that Tehran is targeting — Central and West Asian countries.