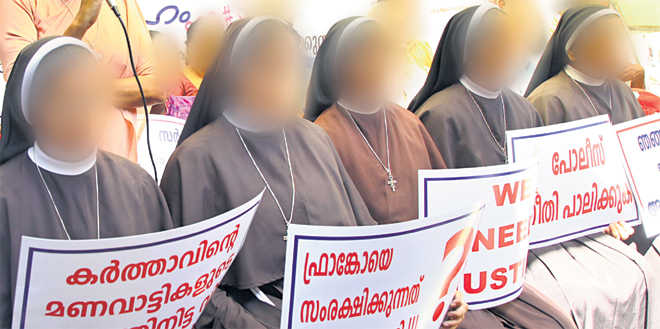 Kochi/Kottayam, Sept 8
Members of various Catholic reformation organisations took to the streets here on Saturday to protest the alleged laxity in the probe into a complaint of rape filed by a nun against a Roman Catholic church bishop.
Five nuns from a convent in Kottayam, to which the victim belonged, also took part in the demonstration and alleged that she had been denied justice by the church, police and the government as no action has been initiated against the accused, bishop Franco Mulakkal of the Jalandhar diocese.
"We are fighting for our sister. She has been denied justice by the church, government and the police. We are ready to go to any extent for ensuring justice to our sister," a nun told protesters here, who held placards demanding the arrest of bishop Franco. She sought to know why bishop Franco has not been arrested despite sufficient evidence against him and also questioned the church's stand on the matter.
"Seventy-four days have passed since the complaint was made against bishop Franco. The police have recorded her statements several times. But the accused bishop was interrogated only once," the nun said. The nuns alleged that the police were trying to sabotage the investigation.
Catholic reformation organisations, including the Kerala Catholic Church Reformation Movement (KCRM), took part in the protest, KCRM office-bearer George Joseph said.
He said some outfits, including KCRM, planned to continue the stir till justice is delivered in the case.
Meanwhile, an Independent MLA attacked the victim nun, allegedly using abusive language against her, for lodging a complaint against the bishop. Addressing a press conference in Kottayam, Poonjar MLA PC George sought to know why she had not complained in the initial stage of sexual misbehaviour by the bishop.
The nun's family said they would initiate legal action against George for hurting her sentiments. They said the nun, who planned to hold a press meet on Sunday, had called it off, saying she was hurt by George's abusive charges.
AICC general secretary Oommen Chandy said he believed that the law would take its own course in the case. Former Chief Minister VS Achuthanandan came out in support of the nun and urged the government to take steps to redress the grievances of agitating nuns.
He said the culprit in the case was an influential person who still remained untouched and it puts the victim nun under pressure.
Fr Paul Thelakkatt, a former spokesperson for the Syro Malabar Church, urged the church authorities "to listen to the grievances of nuns." — PTI
TNS adds: Bishop Franco Mulakkal on Saturday attended the silver jubilee function of Missionaries of Jesus at Jalandhar Cantonment. It was at this congregation that the complainant nun served as Mother General in the past.