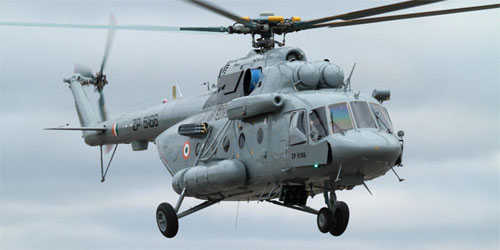 Vijay Mohan
Tribune News Service
Chandigarh, September 25
As the IAF moves towards upgrading the operational capability of its growing fleet of Mi-17 V5 helicopters by retrofitting them with advanced electronic warfare (EW) suites, the Ministry of Defence has restricted participation in the project to Indian firms only.
The IAF wants to install integrated EW suites on all Mi-17 V5 helicopters in its inventory. The suites include radar warning receiver, missile approach warning system and counter-measure dispensing system. A specific number of helicopters would also be equipped with laser warning receiver and directed infrared counter-measure systems, suggesting their use for special missions.
The EW suite would enable pilots to identify, prioritise and intercept and neutralise threats from various types of ground-based and airborne radars, missiles and infrared detectors, thereby providing a self-protection envelope.
A Request for Information issued by the IAF states that proposals for installing these systems are invited from Indian vendors only. The move to keep foreign firms out of this project is in line with the government's "make in India" policy that is aimed at boosting indigenous defence manufacturing and reducing imports, an officer said.
Apart from government entities like the Defence Research and Development Organisation and Bharat Electronics Limited, which have been supplying electronic equipment to the defence forces, a few of private firms in the country are also associated with such activities.
In fact, some firms based in South India were involved in the development and integration of certain EW components and software for the IAF's Phalcon airborne warning and control systems as well as the SU-30 fighter.
Some major industrial houses have also entered the defence arena for indigenous design and development of weapon systems and major platforms following the government's recent move to rope in the private sector in pursuit of self reliance.
---
About the copters
The IAF has procured 148 Mi-17 V5 helicopters from Russia, most of which were assembled and flight tested at No.3 Base Repair Depot in Chandigarh
More powerful and capable than the earlier Mi-17 versions, these form the mainstay of the IAF's medium lift capability and VVIP duties
A few weeks ago an additional 48 V5s were ordered
Why the move
It will ensure foreign firms remain kept out of this project in line with the government's "Make in India" policy
IAF's growing fleet of Mi-17 V5 helicopters will be retrofitted with advanced electronic warfare (EW) suites
The suite will enable pilots identify, prioritise, intercept and neutralise ground-based and airborne threats