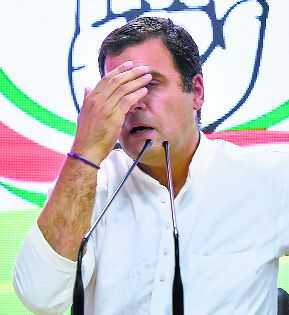 Aditi Tandon
Tribune News Service
New Delhi, May 23
Five years after the Congress thought it had hit rock bottom with 44 MPs in Lok Sabha, the grand old party was hit by another saffron wave that drowned it to 52 leads when results last came in.
A stunned Congress president, Rahul Gandhi, took "100 per cent responsibility" for the party's poor show in a second consecutive Lok Sabha election but stopped short of saying he would resign. He described the verdict as people's acceptance of PM Narendra Modi's vision of India vis-à-vis the Congress vision of India and said, "I respect the people's verdict and congratulate the PM."
Asked if he would resign, the Congress chief said, "This will be discussed in the Congress Working Committee. We will meet soon. This is between me and my party."
Rahul's sister and AICC general secretary for east Uttar Pradesh Priyanka Gandhi Vadra looked on from a distance as her brother braved twin losses — of the Congress to the ruling BJP and of the family bastion Amethi to minister Smriti Irani. Priyanka, the Congress trump card that was trumped in UP, did not even ascend the AICC dais today.
Uttar Pradesh again proved a firm BJP citadel they failed to breach. As against two seats the Congress won from India's biggest state in 2014, the party won just one this time – Rae Bareli, which UPA chief Sonia Gandhi defended.
Rahul Gandhi lost Amethi to Smriti Irani and while conceding defeat said, "I hope she looks after Amethi lovingly." Had it not been for the Congress chief choosing to contest from a second seat – Kerala's Wayanad — Rahul Gandhi would have missed the LS berth this year.
Back at Congress headquarters that looked dull and desolate, Gandhi attempted to infuse cadres with hope in the future. "Ours was an ideological battle and the people chose the ideology of the BJP. I want to say thanks to Congress workers who fought valiantly. Even today I want to say that no matter what anyone accuses me of, I will continue to reciprocate with love. Love is never defeated."
Led by Rahul Gandhi who faced a humiliating defeat in Amethi, a host of former Congress Chief Ministers faced crushing defeats today at the hands of their BJP rivals.
Former Madhya Pradesh CM Digvijay Singh was taken down by novice Pragya Thakur by over three lakh votes; ex-Haryana CM Bhupinder Singh Hooda was trailing; former Maharashtra CMs Ashok Chavan and Sushil Kumar Shinde fell behind too. BJP's Ajay Bhatt's victory margin over former Uttarakhand CM Harish Rawat was over 3.3 lakh. Ex-Arunachal CM Nabam Tuki was trailing by over one lakh votes and ex-Karnataka Chief Minister Veerappa Moily by over 1.82 lakh votes.
Sons of sitting Congress CMs lost too. Rajasthan CM Ashok Gehlot's son Vaibhav when last checked was trailing behind minister Gajendra Shekhawat by over 2.7 lakh votes while Madhya Pradesh CM Kamal Nath's son Nakul's trailing margin was over 37000 votes.
All of Rahul Gandhi's lieutenants — MPs Jyotiraditya Scindia and Mahila Congress chief Sushmita Dev; former ministers RPN Singh and Jitin Prasad; UP Congress chief Raj Babbar — lost their fights today, signaling a weak party leadership that will see its first test in the coming days.
---
No LoP post again
The Congress would for a second time in a row fail to stake claim to position of Leader of Opposition (needs 54 seats, but may only get 52). Even worse, its leader in 16th LS Mallikarjun Kharge lost by 96,000 votes.
Top guns bite dust
Ex-CMs: Digvijay Singh, Nabam Tuki, Veerappa Moily, Ashok Chavan, Harish Rawat, BS Hooda, Mukul Sangma, Sheila Dikshit
Leader of Cong in 16th LS and nine-time MP Mallikarjun Kharge
Congress whip in 16th LS Jyotiraditya Scindia
Mahila Cong chief Sushmita Dev
Ex-PM HD Deve Gowda of JDS