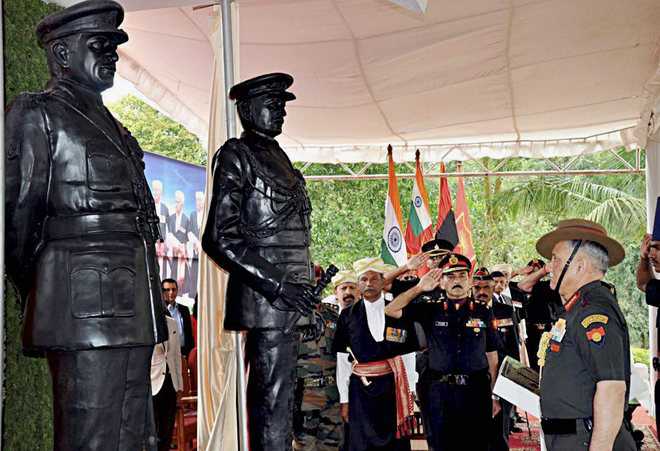 Vijay Mohan
Tribune News Service
Chandigarh, November 4
After having used the indigenous INSAS light machine gun (LMG) for close to two decades, the Army is reverting to a higher calibre for this class of weapons that has a longer range, higher kill probability and greater ability to penetrate body armour.
The INSAS rifle and LMG family, that is sought to be replaced, has a 5.56-mm calibre (internal diameter of the barrel), whereas the Army now wants rifles and LMGs having 7.62-mm calibre. The Army wants LMGs and rifles having an effective range of at least 800 m and 500 m, respectively, whereas the range of INSAS weapons is 700 m and 400 m, respectively.
(Follow The Tribune on Facebook; and Twitter @thetribunechd)
The Army this week projected a requirement of 45,000 LMGs, out of which about 9,000 will be required immediately. The LMG is a fire-support weapon and in infantry battalions is issued at the section level, the smallest organised combat group comprising 10 men. The approximate number of LMGs required by infantry battalions is 9,000. The Army, having a strength of over 11 lakh, had sought 1.85 lakh new generation 7.62 mm assault rifles about three months ago, but the procurement process continues to hang fire.
Based upon its experiences in counter terrorist operations and asymmetric warfare, the Army is opting for higher caliber personal weapons with the objective of "shoot to kill" rather than the dictum of "shoot to incapacitate". The Army had been using the smaller 5.56-mm calibre earlier keeping in line with NATO philosophy of using lighter bullets aimed to injure rather than kill as wounded soldiers created additional administrative and logistical problems for the enemy. Weapons with a higher kill probability are preferred in anti-terrorist operations, especially where a lone terrorist or a small group may be acting on their own.
Top Stories