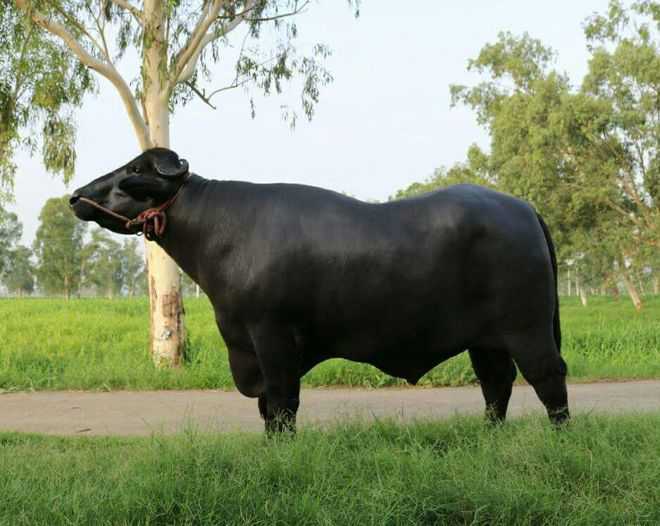 Archit Watts
Tribune News Service
Muktsar, July 27
Murrah bulls Daara and Sikander from Fazilka district have been selected for the 17th Progeny Testing Programme of the Central Government. These are the only two privately owned bulls in the country to be included in this programme.
These bulls are the offspring of "Rani" buffalo, which had made the record by producing 26.335-kg milk in a day in the National Livestock Championship, 2016, in Muktsar.
Dr Inderjeet Singh, Director, Central Institute for Research on Buffaloes (CIRB), Hisar, said, "Apart from 14 bulls belonging to government-run institutes, two private bulls from Fazilka district have been selected under the programme for the first time."
He added, "To include the bulls in this programme, several conditions were laid, including the DNA test of bulls and milk yield of their mother buffalo. Now, 4,000 doses of semen of each bull will be tried on the farm buffaloes for next about one-and-a-half years. Then calves from these bulls will also be observed."
"Sikander was the young bull champion in the National Livestock Championship-2016, while the younger one, Daara, bagged the award in this year's championship," said Sherbaj Singh, proud owner of these two bulls, who owns Lakshmi Dairy Farm at Chak Vairoke village in Fazilka.
"We have signed an agreement with the CIRB. The CIRB, by including these bulls in the programme, can provide bulls of high genetic record," he added.
Offspring of Rani buffalo
These bulls are the offspring of Rani buffalo, which had made the record by producing 26.335-kg milk in a day in the National Livestock Championship, 2016, in Muktsar
Sikander was the young bull champion in the National Livestock Championship-2016, while the younger one, Daara, bagged the award in this year's championship