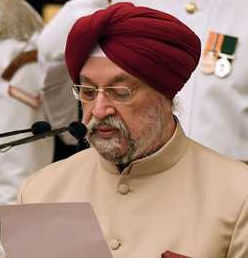 Vibha Sharma & Sanjeev Singh Bariana
Tribune News Service
New Delhi/Chandigarh, April 21
Union Minister Hardeep Singh Puri, 67, is the BJP candidate for the Amritsar constituency. His name in the 23rd list of seven candidates was declared today.
Interestingly, the BJP is yet to reveal its cards for the Chandigarh, Gurdaspur and Hoshiarpur seats. Punjab and Chandigarh go to the polls on May 19 and the last date for filing nominations is April 29.
While Chandigarh and Hoshiarpur seats are with the BJP, the Congress holds the Gurdaspur seat.
The party has opted for four sitting MPs from Delhi, Shankar Lalwani from Indore, MP, and Harinarayan Rajbhar from Ghosi, Uttar Pradesh. Lalwani replaces Lok Sabha Speaker Sumitra Mahajan. He heads the Indore Development Authority.
A 1974-batch IFS officer, Puri, who joined the BJP in 2017, is expected to face a tough fight in Amritsar, a constituency which Arun Jaitley lost despite the Modi wave in 2014.
The Congress retained the seat in the 2017 byelection too after Capt Amarinder Singh resigned to take over as CM.
Puri is pitted against Congress sitting MP Gurjeet Singh Aujla and Kuldip Singh Dhaliwal of AAP.
In Chandigarh, alarmed at the delay in announcing candidates for the remaining seats, a former president, said: "This will place us at a disadvantage. Even Puri is born and brought up in New Delhi. It seems Punjab and Chandigarh are low on priority."
Another former president said that to perform well, the party needed to face popular faces. "Voters want to know the background of a candidate to decide if they can place their trust in him."
He said the bigger issue was that BJP units in Punjab and Chandigarh stood divided. "Any further delay in naming candidates will only make it worse."
Sources said Sunny Deol could be BJP's Gurdaspur nominee and Som Parkash may be fielded from Hoshiarpur. The three names reportedly recommended by the BJP election committee for Chandigarh are Kirron Kher, sitting MP, Sanjay Tandon and Satya Pal Jain.
FOUR NAMES FOR DELHI
In Delhi, where last day of filing papers is April 23, BJP named four of seven candidates: Dr Harsh Vardhan from Chandni Chowk, Parvesh Verma from West Delhi, Manoj Tiwari from Northeast Delhi and Ramesh Biduri from South Delhi.
Top Stories