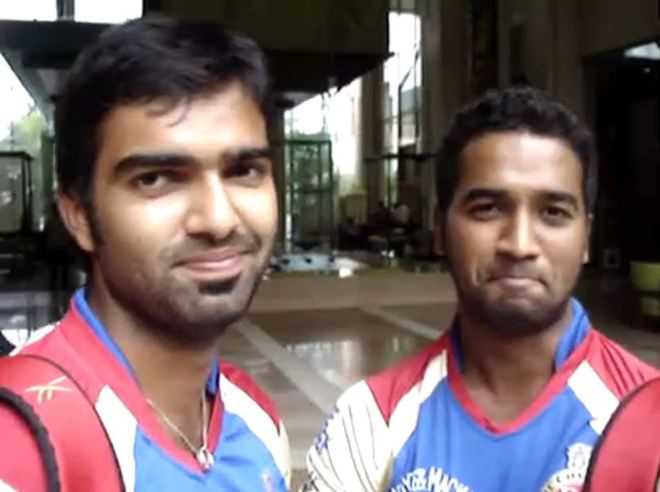 Bengaluru, November 7
Two former Karnataka Ranji Trophy players were today arrested for allegedly accepting money to spot-fix in the scandal-ridden Karnataka Premier League (KPL). The arrest of CM Gautam — who has turned up for IPL teams Delhi Daredevils, Mumbai Indians and Royal Challengers Bangalore — and his former Karnataka teammate Abrar Kazi is a worrying indication that the rot may be deep in the T20 leagues in the country.
Gautam captained Bellary Tuskers in the recent edition of the KPL, while Kazi was his teammate. Gautam and Kazi were arrested by the city's Central Crime Branch, which is investigating charges of spot-fixing in the last two seasons of KPL.
"We have arrested two players with regards to KPL fixing," Additional Commissioner of Police Sandeep Patil said, adding that some more arrests may be made as the investigation progresses.
Gautam was the captain of Goa for this season while Kazi represents Mizoram. Both were in their respective state squads for the Syed Mushtaq Ali Trophy, the national T20 tournament, which begins on Friday. The Goa Cricket Association today terminated Gautam's contract and named Darshan Misal as the new captain.
Final fix
Police said the two were involved in fixing in the KPL 2019 final between Bellary Tuskers and Hubli Tigers after accepting Rs 20 lakh each for slow batting. Hubli Tigers won the final by eight runs. Opening the batting in the final in a chase of 153, Gautam made 29 off 37 balls, though Kazi made a much quicker 13 off six balls.
"They were paid Rs 20 lakh for slow batting, and for other things. Also, they fixed another match against Bengaluru team," an investigation officer said. The arrests come close on the heels of the arrest of Bengaluru team player Nishant Singh Shekhawat this week. Three others, including the owner of Belagavi Panthers, have been arrested since the scandal came to light a couple of months ago.
IPL connect
The 33-year-old Gautam is a seasoned campaigner, having figured in the IPL. The 30-year-old Kazi played just one IPL game, for RCB back in 2011, failing to make much of an impact. He has 17 First-Class matches to his name. Gautam, the biggest name to be caught in the scandal so far, has 94 First-Class games to his credit and was a regular in the Karnataka team before shifting to Goa this season.
On October 26, Bengaluru Blasters bowling coach Vinu Prasad and batsman Vishwanathan were arrested in connection with the scandal. The coach allegedly manipulated a game between Bengaluru Blasters and Belagavi Panthers last year. The KPL fixing came to limelight with the arrest of Ali Ashfaq Thara, who owned the Belagavi team.
Belagavi Panthers suspended
Meanwhile, the Karnataka cricket association (KSCA) suspended the Belagavi Panthers franchise. A KSCA statement said that any other franchise, players, match officials and support staff who are implicated with prima facie evidence of involvement in any illegal activity will be suspended immediately. If they are found guilty, stringent action would be taken against them. — TNS, agencies
Abrar Kazi
The Bengaluru-born 30-year-old left-arm spinner has played 17 First-Class matches. He has figured in the IPL for RCB, and is currently signed up with Mizoram for national tournaments
CM Gautam
The Bengaluru-born 33-year-old is a wicketkeeper-batsman and has played 94 FC matches. He has figured for 3 IPL teams, and was Goa's captain until being sacked after his arrest