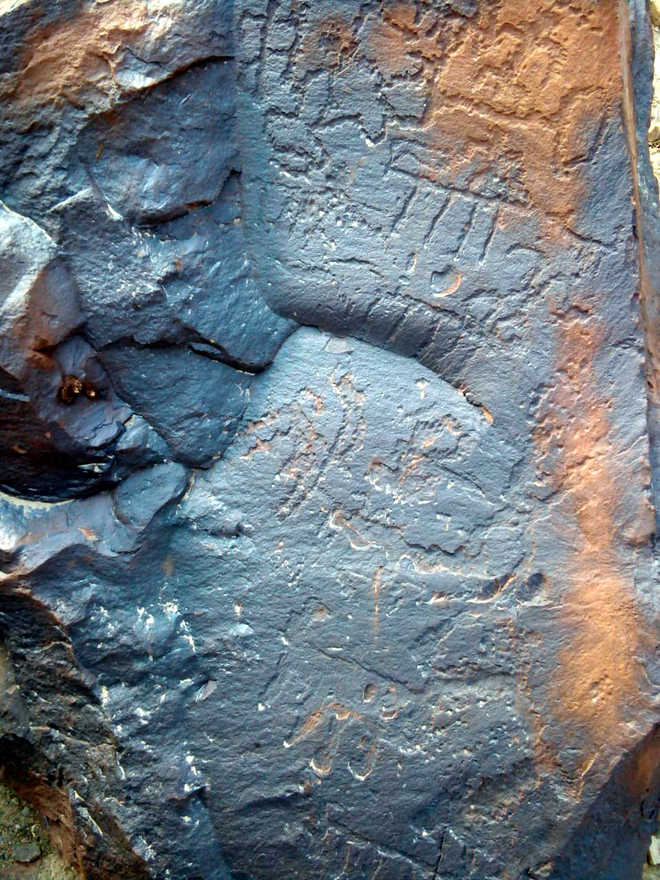 editorial@tribune.com
Pratibha Chauhan
Tribune News Service
Shimla, June 4
The unique rock art and vast expanse of Petro Glyths in the tribal district of Lahaul-Spiti could well be bestowed with the tag of the UNESCO World Heritage Site as the area is a unique cold desert.
The Department of Language, Art and Culture is in the process of preparing a dossier about the cold desert of Spiti, which already figures on the tentative list for the world heritage sites done by UNESCO.
Purnima Chauhan, Secretary, had made a presentation before a UNESCO South-East Asian meeting at Kolkata.
"Though Spiti figures on the tentative list of the world heritage site, now we are trying to further enrich our case by including the rock art and Petro Glyths spread over 19 sq km, which can emerge as a big tourist attraction," said Purnima. The tribal districts of Kinnaur and Lahaul-Spiti had boundless cultural assets, which could help give tourism a major fillip.
Officials and experts of the department received training at Dehradun for preparing a report to be submitted for the listing. As of now, the narrow gauge Shimla-Kalka railway track and the Great Himalayan National Park (GHNP) in Kullu district have been bestowed with the prestigious tag.
"There is a lot of interest in the cultural assets of Spiti and it is for this reason that we are receiving a very good response for adopting our cultural heritage, 30 of which have been included in the scheme, "Adopt a Heritage."
She revealed that the Hyatt group was keen to adopt the ancient monasteries at Tabo, Kei and Kaza, which would help in their upkeep and also advertise these on the international level. There were some other big corporate houses like ITC, Volvo and Nagarjuna group, which had also evinced interest in the 30 monuments, listed for adoption. "We will hold talks with these so that agreements can be signed for the formal adoption of these cultural and heritage sites," she stated.
About Petro Glyths
These are rock carvings at Lari, five km from the Tabo monastery, almost 3,500-year-old. The district administration at Kaza has been asked to get a complete record of these so that they can be protected as cultural heritage under Ancient Monuments Act, 1976.
Monasteries up for grabs
The govt is in the process of preparing a dossier about the cold desert of Spiti, which already figures on the tentative list for the world heritage sites
Kinnaur and Lahaul-Spiti have boundless cultural assets, which could help give tourism a major fillip
The Hyatt group is keen to adopt the ancient monasteries at Tabo, Kei and Kaza, which will help in their upkeep and also advertise these on the international level