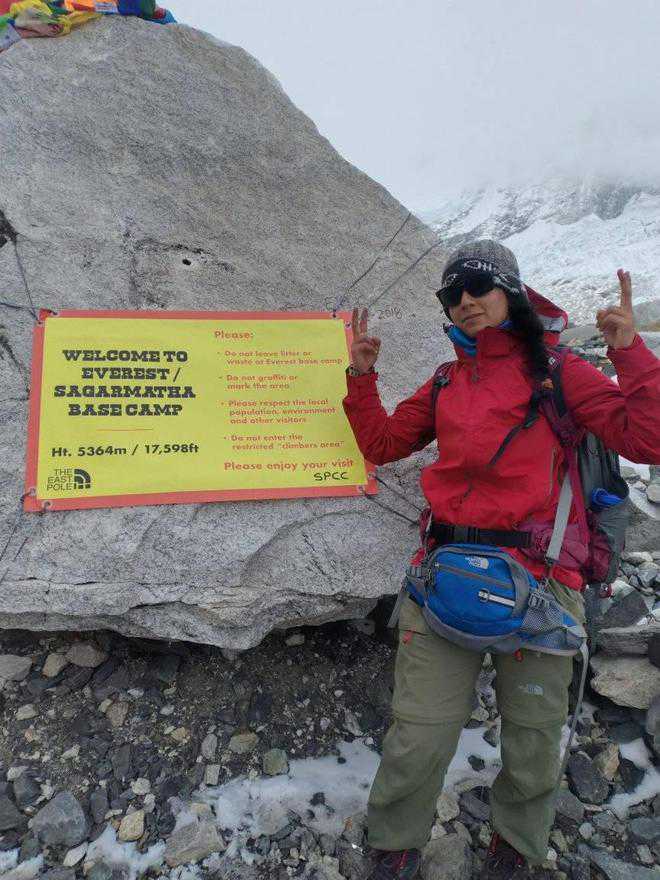 editorial@tribune.com
M Aamir Khan
Tribune News Service
Srinagar, May 19
Nahida Manzoor, 23, is on her way to create history to become the first Kashmiri woman to scale Mount Everest. Eighteen-year-old Rizza Alee from Pattan in north Kashmir is also part of the ongoing expedition to the world's largest peak and they are expected to achieve the feat anytime this week.
"We are keeping track... the expedition is on and they are expected to reach the top in the next few days. If the weather remains favourable, there are chances of accomplishing the feat on Monday or day after," former Sports Council member and well-known adventure tourism expert Rauf Tramboo told The Tribune.
He said Nahida would become the first woman from the Valley to conquer the Everest. Though Tramboo said a couple of other men had climbed the Everest before, Alee would become the youngest man from Kashmir to achieve the feat.
Pertinently, Nahida had remained in news for starting an online crowd-funding campaign on the social media to fulfil her dream of conquering Mount Everest. Her campaign had generated a lot of buzz and she finally managed to get the funds.
"It was my childhood dream to climb Mount Everest. Mountaineering is a very expensive sport and the expedition to the Everest costs Rs 30 lakh. After failing to get sponsors, I resorted to crowd-funding. I have climbed Mount Deo Tibba, Manali; Friendship Peak, Himachal Pradesh; Srinagar's highest peak Mount Mahadev; and Mount Tatakooti in Pirpanjal Range besides others. During my first hike as a 10-year-old, I had promised myself that one day I will climb the highest peak of the world," Nahida had told The Tribune before leaving the Valley.
On the other hand, Alee from Nowlari, Pattan, had said he wanted to start a foundation to create awareness on climate change. "I'll be climbing the Everest for the cause so that later on I can establish 'Rizza Alee Foundation' where I can raise awareness about climate change and serve humanity. I have been climbing mountains since long and have been to many places. In the early childhood I used to climb those little hills around my village and after moving to Srinagar in 2011 I started trekking with groups and used to go for advance treks. And later on I started climbing bigger mountains," said Alee.
Top Stories