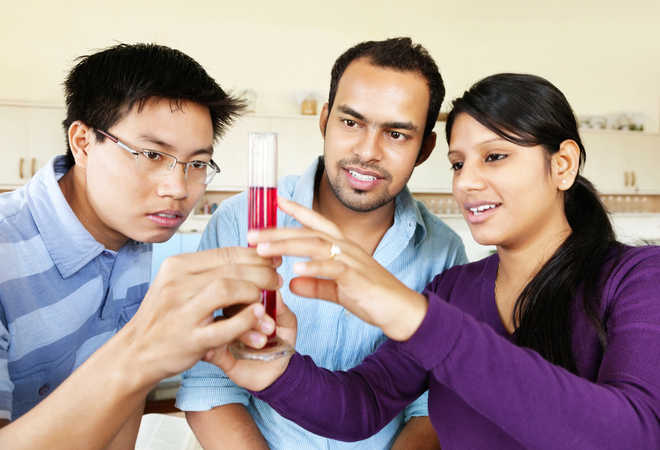 harinder@tribunemail.com
Aruna Singh
Are you interested in biology, medicine and disease prevention and also want to figure out how diseases affect the human body? Then a career in histology may be the right choice for you. Since laboratory tests have become increasingly important in the detection, diagnosis, and treatment of many illnesses and diseases. Histology, a field closely related to cellular biology, focuses on the microscopic study of the human body, animal and plant tissues.
Work profile
Histology technicians and histo-technologists are specialisd medical lab workers. They play a crucial role in the diagnosis and treatment of diseases by turning body tissue samples into microscope slides. When they prepare the slides with a patient's tissue, they work with dyes and chemicals to make abnormalities visible with a microscope. Histologists examine how cells process various nutrients, interact with other cells and get rid of waste. They also look at how abnormal or malignant cells function so that they can prevent or treat diseases. They will also be responsible for cleaning the equipment and general infection control.
Work environment
A majority of histologic technicians work in pathology laboratories in hospitals and clinics. These people are also work in medical or research laboratories, pharmaceutical companies, doctor's offices, or government agencies. Individuals usually work a 40-hour week and may be required to work nights or weekends depending on a place of employment.
Education requirements
Sometimes, a diploma and certificate course is the minimum education required to become a histology assistant. However, many employers prefer those with an associate's or bachelor's degree. Common majors for this profession include life science and medical laboratory technology. Histo-technician education directly prepares individuals for jobs, and students may be able to increase their future employment opportunities by working part-time in a laboratory while attending school.
Remuneration
Like most other professions, the earning potential of a histology technician increases with time and experience. While salaries vary according to the employer and location of employment, the minimum salary for the histology technician can start from Rs 15,000 per month.
Skill set
These technicians frequently work directly with patients, pathologists, insurance providers and other medical staff, which require the ability to communicate in a pleasant, knowledgeable and tactful manner.
A histology technologist needs to be extremely patient and careful to assist in the identification of abnormalities in the tissue sample. Individuals interested in histology should be detail oriented and be able to work as a team.
Safety precautions must be taken when working with potentially infectious samples.
Histology technician should also have excellent organisational and office skills, including those associated with filing, computer data entry and recordkeeping.
Institute watch
Christian Medical College, Vellore
www.cmch-vellore.edu
Delhi Paramedical and Management Institute
www.dpmiindia.com
Osmania Medical College, Hyderabad
www.osmaniamedicalcollege.org
Gajra Raja Medical College, Gwalior
www.grmcgwalior.org
— The writer is Principal, Delhi Paramedical and Management Institute