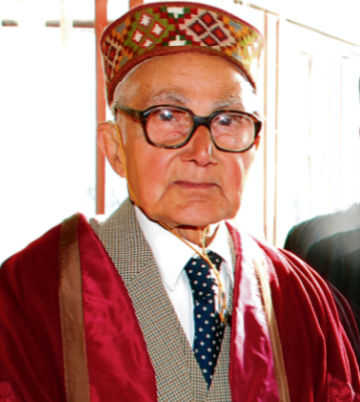 laxmi@tribune.com
BK Shivram
SR Mehrotra (b. 1931), a noted historian with a reputation for exploring traces left in official records, who has extensively written on India's struggle for freedom, passed away in Shimla on July 17.
He was 89-year-old and was acutely ill for the past one week after his fall with a hip fracture. His last rites were performed on July 19 at his residence 'Seva' in Chaura-Maidan (Shimla).
An alumnus of the Allahabad University and the University of London, Mehrotra and his spouse Dr Eva Mehrotra taught in the Department of History at HPU from 1972 to 1991. Teaching was not about salary for the duo. Out of two, only one used to take salary over the course of teaching career. Before joining HPU, he taught politics at the School of Oriental and African Studies (University of London), from where he earned his PhD in 1960. He also was a visiting fellow of St John's College, Cambridge, Jawaharlal Nehru Professor at MD University, Rohtak, and a fellow of the Indian Institute of Advanced Study (IIAS), Shimla. Mehrotra was also awarded the Doctor of Literature honoris causa by HPU, conferred in 2014 by His Holiness the Dalai Lama.
Mehrotra's students and colleagues expressed profound grief over his death. In a personal communication, his colleague Prof Chetan Singh, the former Director of IIAS, said as a founder of the history department, he used his limitless erudition to build the department at its highest level in teaching and research and to illuminate generations of students. Dr Laxman Thakur, YS Parmar Chair's Professor at HPU, said his remarkable contribution to modern Indian history will never be forgotten. "He had a way of criticising people's work that they only viewed as opening up new possibilities," said Dr Phul Chand Thakur, his student in mid-70s at HPU. Mehrotra's former pupil, Dr Raja Ram Chauhan, retired college Principal from Shimla, remembers Mehrotra as a professor dedicated to the growth of his students. "India has lost one of its finest and most tireless chroniclers of its struggle for freedom," writes Dinyar Patel, Assistant Professor at the University of South Carolina (USA) and co-editor of the book (with Mehrotra), Dadabhai Naoroji: Selected Private Papers. "He wrote solid empirical history, letting the sources speak for themselves," Patel says in his tribute.
I recall fondly the many stretched meetings with him during my fellowship stint at the IIAS, where he used to come often after retirement to consult library and to attend academic programmes. He cleared many cobwebs from my mind on regional history and shared many documents connected with the visits of Indian nationalist leaders such as Gandhi, Hume, Jinnah and Nehru to Shimla. Mehrotra's interest in Shimla's history is well-acknowledged and filled many gaps in the hill's history. He differed with the general perception that Shimla became the summer capital of the British Raj in 1864. In his opinion, Viceroy Sir John Lawrence shifted his summer sojourn to Shimla not the summer capital in that year. In his much acclaimed book The Emergence of the Indian National Congress, Mehrotra demolishes the "safety valve" theory, according to which the Congress was formed by Hume and colonial government to contain and tame the Indian national sentiment. This theory enjoyed great popularity till the painstaking research of SR Mehrotra.
The work Selected Writings of Allan Octavian Hume (co-edited with Edward C Moulton) is the first of four projected volumes of the selected writings of Allan Octavian Hume (1829-1912), the founder of the Indian National Congress and social reformer. Mehrotra and his colleague Moultan, labored for many years to uncover the available documents and letters through the colonial archives in England and India. Hume emerges, from these materials, as a committed, liberal radical reformer and the one, who was sensitive to the Indian national demands.
A prolific writer
Mehrotra was a prolific writer and has written and edited several books, including India and the Commonwealth (1965), The Emergence of the Indian National Congress (1971), Commonwealth and the Nation (1978), Towards India's Freedom and Partition (1979), A History of the Indian National Congress (1995), Selected Writings of Allan Octavian Hume (2004), Introduction, Indian Home Rule: Hind Swaraj (2010), A Sant of Shimla (2012), The Mahatma & the Doctor (2014), Dadabhai Naoroji: Selected Private Papers (2016), among others.
Mehrotra solved several puzzles in Modern Indian History. Before the publication of his book The Mahatma & the Doctor in 2014, we have been told that it was Nobel laureate Rabindranath Tagore, who gave MK Gandhi the title of Mahatma in 1919. According to Mehrotra, it was Dr Pran Jivan Mehta (1864-1932), Gandhi's greatest friend and benefactor, who for the first time addressed Gandhi as Mahatma in his letter to Gopal Krishna Gokhale at Rangoon on November 8, 1909. He has published that letter in his book. In Introduction to Indian Home Rule: Hind Swaraj, a centenary edition (2010), Mehrotra argued that MK Gandhi's seminal work Hind Swaraj was largely a record of the conversation he had with Dr Mehta earlier in 1909 in London, which Gandhi recollected and recorded hurriedly originally in Gujarati between November 13 and 22, 1909 on board the Kildonan Castle on his way from England to South Africa. Pran Jivan Mehta was the person, who encouraged and enabled Gandhi to return to his native land in January 1915.
A wish that remained unadressed
Mehrotra had an anguish till his last that the Congress party ruling in the Centre and Himachal Pradesh for several years, Rothney Castle (Sheeshewali Kothi) built by Colonel Rothney on Jakhoo Hill (Shimla) in 1838, where the idea of forming India's oldest party — the Indian National Congress was conceived in 1884, was never considered to be changed into Hume's memorial or heritage museum, which he pleaded at all available platforms. The large building of Rothney Castle spread over the 17.500 sq metre area, purchased by Allan Octavian Hume in 1871, where he once established ornithological museum, served as the official residence of Hume in India as the general secretary of the Congress continuously from 1885 to 1906, went into the hands of Lala Chunamal Saligram of Chandni Chowk, Delhi, and was passed on mid-80s to Rajinder Mohan, the descendant of Chunamal. When Congress commemorated its centenary under the leadership of Rajiv Gandhi in 1985, it was suggested that the government might turn the residence into a heritage site. To allay this fear, Rajinder Mohan entered into an agreement with the heavy-hitters of the party and raised a company, Castle Inn Company Private Limited, to turn part of Rothney Castle into a hotel.
(The writer is head, department of history, HPU)
All readers are invited to post comments responsibly. Any messages with foul language or inciting hatred will be deleted. Comments with all capital letters will also be deleted. Readers are encouraged to flag the comments they feel are inappropriate. The views expressed in the Comments section are of the individuals writing the post. The Tribune does not endorse or support the views in these posts in any manner.