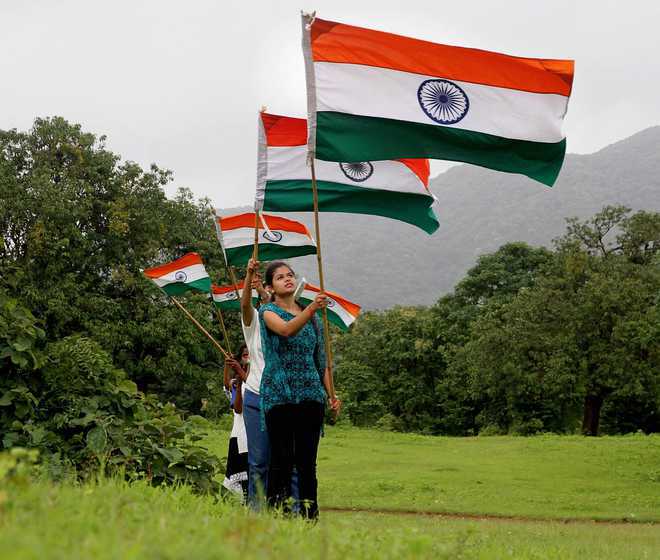 vinaymishra188@gmail.com
Arun Joshi
Tribune News Service
Srinagar, August 14
Outside the Srinagar airport, the Tricolour was fluttering high in air as the sole flag in Kashmir. There is no other flag in sight in any other part of the city. It is a phenomenon never seen before in the past 70 years. The sole rival or supplementary red-coloured Jammu and Kashmir flag with three white stripes is gone forever. This transformation in the Valley has changed the whole set of perceptions.
The Tricolour had been flying in Kashmir for more than seven decades. It is familiar and part of the history of Jammu and Kashmir that came into being in October 1947 following the accession of the erstwhile princely state to India. However, it has now assumed a new meaning and dimension.
This change has been brought by the Presidential proclamation on August 5 that closed the chapter of special status for Jammu and Kashmir forever.
This is what the rest of the nation had been looking for years together — unaware of any details about the special status. For them, Article 370 was a licence for the state governments to do whatever they wanted, hurting the national interest by watering the nurseries of terrorism.
"Now this will not happen," Rattan Lal, a passenger, quipped as he narrated how the things have changed with a single stroke on August 5. "I am feeling Indian in Kashmir too," for he had nurtured the notion throughout his life that Kashmir was different. "I knew it's a paradise, but now it's an Indian paradise," he said.
The nation believes that all wrongs have been undone. The duo of Prime Minister Narendra Modi-Home Minister Amit Shah had done what the governments at the Centre could not do for the past 70 years.
The Tricolour has assumed new supremacy in Kashmir that perhaps the nation had aspired for many, many years and was fearing that its aspirations will remain suspended for more years. But the wait has been cut short.
This new reality will take time to be accepted in Kashmir for a while. And it will be visible on August 15 when the Valley joins the Independence Day celebrations with the rest of the country.
Kashmiris who have developed a sense of loss with a separate flag, Constitution and legislature gone are having their own apprehensions. Accepting the Tricolour as a partner to the state flag in the Kashmir was something different, but its absolute sovereignty will take time for them to accept, which becomes clear from the conversations that dot the Vale.
"You have taken away everything from us, what more you want?" says a shrill voice of a middle-aged person. Another local, refusing to disclose his identity, said, "Don't take our land, we will not give it. My name doesn't matter at all, I am a Kashmiri." The picture is, however, complete with the Tricolour signalling its unchallenged supremacy in Kashmir.