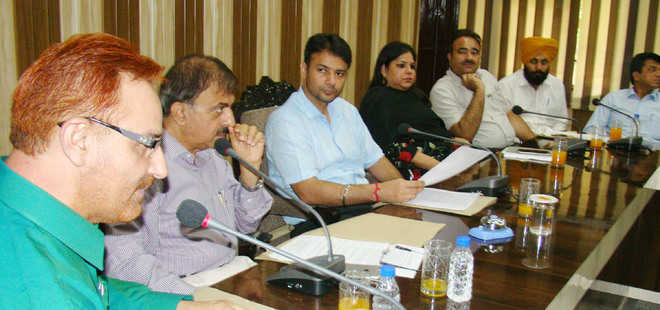 Tribune News Service
Amritsar, September 6
With the number of dengue patients increasing to 82 in the district, the Deputy Commissioner held a meeting of the district task force for control of dengue here today.
The meeting was attended by representatives of various departments, including health, the Municipal Corporation, Education and others. During the meeting, the Deputy Commissioner asked the MC authorities to get the anti-larva medicines sprayed in the city. He also instructed the MC to issue challans to residential and commercial establishments where mosquito larva is detected and send the information to the Civil Surgeon.
He also stated that chemicals should also be mixed in pits where water is standing. Deputy Commissioner Varun Roojam also asked the Education Department authorities to educate students about the symptoms and precautions related with dengue.
The Civil Surgeon, Dr Pardeep Chawla, said the Deputy Commissioner was informed about the efforts being made by them to tackle the problem. He said 15 teams of the department were continuously monitoring the situation. A maximum of 46 cases of dengue have been reported from the walled-city area.
Meanwhile, district epidemiologist Dr Madan Mohan said as per Ministry of Health guidelines, Mac Elisa is the only test recognised for confirmation of dengue. He said there have been reports that a few private hospitals are indulging in malpractices by creating panic among residents and diagnosing dengue on the basis of tests other than Mac Elisa. He said though it is advisable that patients must consult a doctor as soon as they feel any of the symptoms related with dengue, but they must keep in mind that doctors conduct Mac Elisa test to diagnose the problem.
The meeting was also attended by SDM, Amritsar I, Rohit Gupta, SDM, Amritsar II, Rajesh Sharma, SDM Baba Bakala Tejdeep Singh Saini, SDM, Ajnala, Dr Anupreet Kaur and other officials.