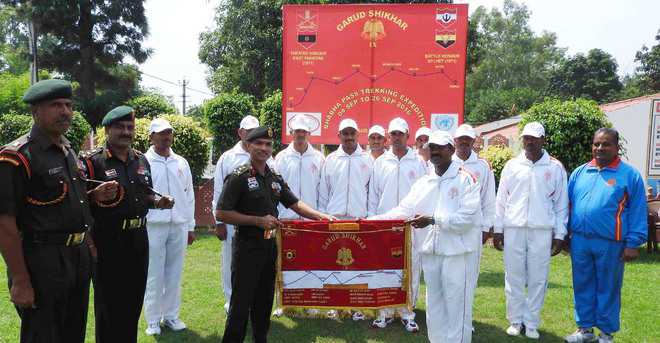 Tribune News Service
Amritsar, September 3
A trekking expedition 'Garud Shikhar' was flagged off by Commander, Double Victory Brigade, Brig Sandeep Singh, from Beas Military Station, 40 km from here, today.
The team, comprising 10 members, is led by Captain Alexraj VS of Guards.
The trekking is scheduled in the arduous terrain of Himachal with the team scaling various mountainous features, including Bhabha Pass, which is at the height of 17,000 feet.
The team members will be self contained for the duration of the expedition. They will traverse 144 km inhospitable terrain in 10 days.
The expedition has been launched to develop team spirit, camaraderie and character buildings of the troops as well as to motivate youth from far-flung hilly areas to join the Army.
While handing over the expedition flag to the team leader Brig Sandeep Singh wished all members success.