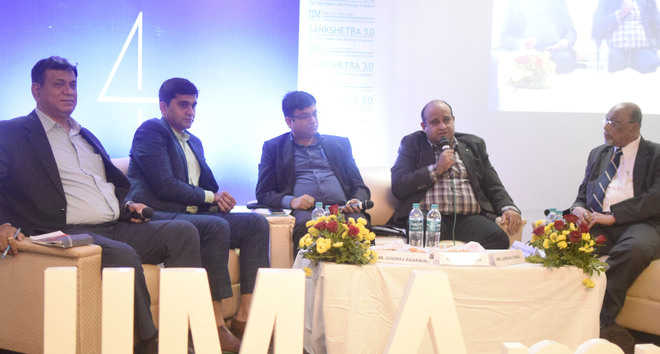 Tribune News Service
Amritsar, December 15
Sankshetra 3.0, an operations and strategy conclave of the Indian Institute of Management-Amritsar, on Saturday discussed protectionism in trade practices and its impact on business globally.
Factual insights on the topic, "Retail 3.0: Operational efficiency in modern retail" and "Business strategies in the face of protectionism" were discussed threadbare.
Protectionism refers to government actions and policies that restrict or restrain initial trade, often with the intent of protecting local businesses and jobs from foreign competition.
The panelists began by discussing how different countries and multinational companies (MNCs) have been conducting trade among each other for centuries.
The discussion took place in two panels, named Operations and Strategy.
The Operations panel included Amantran Ghosh of Nestle, Dhaval Raja from Raymond, Gourav Agarwal and Subhas C Basu of PayTm. The discussion was moderated by Dharmender Matai, CEO, Alisha Retail.
The panel discussed operational efficiency in retail market and technological intervention that plays a key role in improving operational efficiency.
The Strategy panel included Mohit Agrawal of Barclays, Narinder Sethi of Tech Mahindra and Smita Negi of Stryker. The discussion was moderated by Rajeev Singh of Karvy Fintech.
The discussions looked into practical and tangible solutions to protectionism and dwelt on how protectionist policies are changing the game and impacting business and global trade, particularly digital protectionism. The changes in government policy are not effective, they inferred.
The conclave concluded with an interaction between the dignitaries and the students.