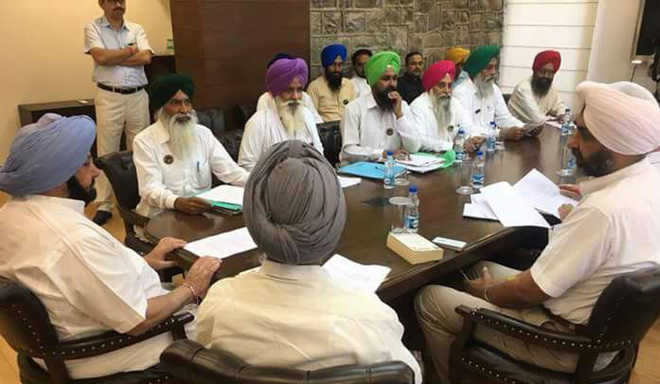 TWO farmers' organisations, having their mass base in this area, which have been fighting for farmers' interests were seen giving first preference to their own supremacy before their scheduled meeting with the Chief Minister, Capt Amarinder Singh, recently. The CM had convened a meeting of the farmers' organisations at Chandigarh on October 16 to discuss the issues related to the farmers. The organisations are known as the Kisan Sangharsh Committee, Punjab, led by Satnam Singh Pannu and the rival outfit, headed by Kanwalpreet Singh Pannu. Besides, others, too, were given messages for the meeting by the CM's office. When Satnam Singh Pannun came to know that their rival organisation led by Kanwalpreet Pannun, too, was also invited to the meeting, he immediately announced to boycott the meeting. He demanded to have a separate meeting with the CM and more time for it.
Both the organisations were working from the same platform for years together when the organisation was formed in 2000. The organiation led by Satnam Singh Pannu parted ways from the main organisation in 2007. Now, Satnam Singh Pannu's organisation has as much mass base in the area and had launched a number of successful agitations in the area. The CM held a separate meeting with Satnam Singh Pannu's organisation.
Ban on stubble burning violated in all villages
The Punjab and Haryana High Court has imposed a complete ban on stubble burning in the state. The district administration has been instructed to make sure that the orders of the high court are implemented in letter and in spirit. Even then there was not even a single village in the district where there was total implementation of the high court orders. Partap Singh, Chief Agriculture Officer (CAO), failed to provide information of a single village where all farmers had abided by the orders of the court. The District Development and Panchayat Officer (DDPO) Jagjit Singh Bal declined to say anything in this regard, adding that the task fell under the Agriculture Department. All panchayts of the district have made announcements through the public address systems of the village gurdwaras. Harjinder Kaur, sarpanch of Dalake village, said an announcement had been in the made in the village, but the response was not up to the expectations.
Bar members' strife, cops' headache
The internal strife of the members of the Bar Association, Patti, has become a headache for the police. As many as eight members of the bar, including its president, have been booked for attacking their colleague in the court complex a few days back. The friction among the bar members is not new. It has been going on for a long time. Sohan Singh, DSP, Patti, said the police had initiated therapy of the bar members to treat their quarrelsome approach.
— Contributed by Gurbax Puri
Top News
Development in Himachal possible as people voted BJP to powe...
Addressing a rally in Baramulla, Shah asks whether terrorism...
The Ministry of Defence spokesperson from Tezpur says the mi...
45-50 people, including women and children, were on the bus
Reason for the crime not yet known