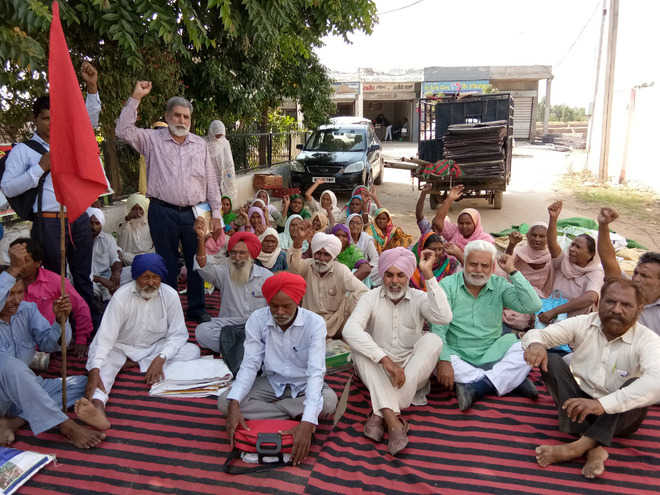 Archit Watts
Tribune News Service
Muktsar, October 7
The MGNREGA Rozgar Parapat Madoor Union on Monday demanded a fair probe into the disbursal of wages, claiming that many skeletons would tumble out as a number of deceased were being shown present in the muster rolls.
Jagrup Singh, chief advisor of the union, alleged that government officials, bank officials and sarpanches were involved in the fraud. "While those working in villages are not getting their wages, deceased are getting the money. It clearly shows that the officials are involved into this embezzlement and a fair probe should be done to punish the guilty," he said.
He further gave names of some persons, who had died two to four years ago. "Deepa Singh, a resident of Tarkhanwala village, died on December 7, 2017, but he is shown present as a MGNREGA worker on September 27, last year. Similarly, Harmeet Kaur, a woman of Thandewala village, passed away on October 1, 2014, but she was shown present in the muster rolls from August 6 to 11, 2019," said Jagrup.
He claimed that it was possible because of fund transfer orders (FTOs) being issued by the district authorities. "Recently, we brought to the notice of the district administration the issue of Shergarh village, where 14 dead people were shown present in the records. The DC marked a probe to the ADC (D) and had asked him to submit a report within 15 days, but nothing has happened till date. Similar frauds have been reported in Ballamgarh, Bhagsar, Rupana, Dohak, Bodiwala and Urang villages as well," he said.
Meanwhile, some MGNREGA workers said they had on an average got work for even less than 30 days, but those close to sarpanches and other politicians of the ruling party were getting more work.
"Plantation of saplings and construction of streets with inter-lock tiles under the MGNREGA scheme was also a big scam," they said.