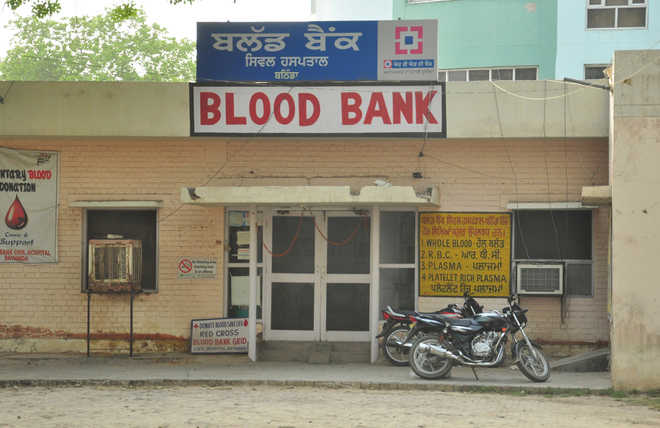 Sameer Singh
Tribune News Service
Bathinda, October 21
The blood bank situated at the Civil Hospital has been grappling with a shortage of blood for a long time. As a result, patients are asked to visit private blood banks in the city on several occasions.
On Monday, the blood bank at the Civil Hospital had 90 units of blood in its stock whereas on an average, the daily requirement of blood is around 40 units. A few days ago, the number of units was negligibly less. The situation improved to some extent after two back-to-back blood donation camps were organised.
The blood bank has a storage capacity of around 600 blood units. Around two months ago, it was reported in these columns that the blood bank at the Civil Hospital was left with only 30 units of blood in its stock. As a result, many patients were asked to visit private hospitals where they had to buy blood at exorbitant rates.
A senior official of the Health Department said: "There is an acute shortage of blood, but we cannot do much as there is a shortage of staff as well. Since they remain engaged in work at the unit, blood donation camps cannot be organised. We rely on NGOs and other parties which on our request organise blood donation camps. A concrete solution has to be found out as the situation has been getting worse now."
"Against the requirement of 10 lab technicians, the unit has been managing the affairs with four lab technicians at present. The demand for new lab technicians has been forwarded to higher officials on a numerous occasions, but to no avail," he added.
Baldev Singh Romana, stock in charge at the blood bank, said, "There has been a decline in the number of blood donation camps. Besides working at the blood bank, lab technicians are also required to organise blood donation camps and carry out other field activities. Since they remain engaged in other work, the number of donors has dropped by 30 per cent in the past one month. We have to take necessary steps to ensure that the count of blood donors does not decline further. The salaries of contractual lab technicians are quite less and no one wants to talk about that they are burdened with extra work owing to a shortage of staff.
Gursewak Singh (name changed), a patient, said, "We had to spend Rs2,200 to buy two units of blood from a blood bank at a private hospital in the city. My father is a labourer and we do not have any agriculture land in our village. What is the use of such large buildings of government hospitals if they cannot provide two units blood to people like us? Nothing could be more painful as my family did not have more money to spend on my treatment than buying two units of blood."
Dr Satish Goyal, Senior Medical Officer, Civil Hospital, could not be contacted despite repeated attempts.
Dr Amrik Singh Sandhu, Civil Surgeon, Bathinda, said, "There is sufficient blood at the blood bank. I will check the exact status. The staff shortage is a common problem in all health centres and the district hospital. We can just forward the demand for the staff to senior officials, which we have been doing in regular intervals."
Top Stories