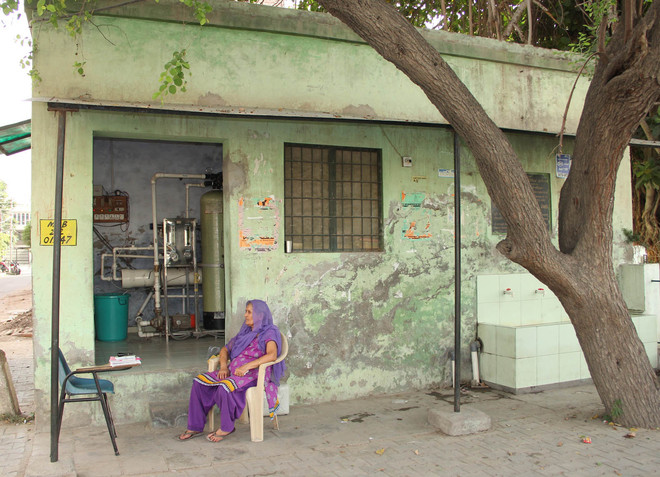 Bharat Khanna
Tribune News Service
Bathinda, June 10
Even as the World Bank had sanctioned another Rs 2,200 crore to the Punjab government for its ongoing project of providing 100 per cent potable water and sanitation in Punjab state that claim to utilised its first sanctioned amount of Rs 1,280 crore before the scheduled time of six months on this project but in contrary to this a number of RO Plants, various government schools and the water works in the Bathinda district have failed to provide potable water with a number of water samples being failed as were providing unsafe water for drinking.
The water samples collected RO plants in Bathinda and Gonyana have been found failed in the first report, however, in followup samples the reports were passed. Three samples from the Bhagu Road RO Plant, Model Town RO plant of Bathinda city and a plant in Killi Nihal Singh village of Goniana were tested and failed. Sources in the Health Department revealed that most of the Reverse Osmosis plants, in order to save money, do not change their candles meant to clean the water from bacteria.
Interestingly, these water samples from various Reverse Osmosis plants in Bathinda were collected in month of May. A number of samples of water works were also found failed but these water works wand RO plants were given a clean chit in a follow up sample reports as the health department use to ask the water works to get chlorinated their water while RO plants were instructed to get cleaned or changed their candles. The health officials claimed that a From page 1
letter were written to some of these plants to chlorinate their RO plants and water works following which a follow up sample of these plants and some water works were cleared.
It's noteworthy that before the Lok Sabha elections in 2014, the state government had claimed to have installed RO plants in almost all the villages of Bathinda and the Mansa district while in many other district the RO plants are being installed for potable water.
The Health Department, Bathinda, had collected about 206 samples from month of January to May this year out of which 115 samples of water have passed whereas about 38 are failed with high bacteria content while the reports of many samples are pending. Among the failed the reports of water collected from government schools at village Behman Diwana, Kot Shamir, having source of water as handpump got failed whereas samples from water works in villages Chak Fateh Singh, Mehraj, Chak Attar Singhwala, Peer Kot and village Chowke too had been found failed with presence of high bacteria.
In May, the Health Department had collected about 74 samples out of which about 21 samples were passed whereas reports of remaining are awaited. Similarly, in June, the department had filled some samples of water from the water suppliers who are supplying the water through water-campers. A sample from water suppliers', including Laxmi Waters, Sangam Water suppliers and Satluj waters was taken on June 9 for which reports are awaited. Similarly, a sample from Lemon Water suppliers or manufacturers in Bathinda, including Janeja Lemon sodha, Madan Lemon Sodha at Purana Thana Road, and Raj Lemon Sodha at Amrik Singh Road has also been filled for testing on June 9 while the reports are awaited.
It's worth mentioning that Punjab Deputy Chief Minister Sukhbir Badal on his Facebook page also claimed on Wednesday that the World Bank had sanctioned another Rs 2,200 crore project to Punjab. The World Bank decided to sanction another project on the basis of completion of Rs 1,280 cr project sanctioned earlier, which had been completed before six month of its schedule time. This project will give impetus to ongoing project of providing 100 per cent potable water and sanitation facilities, claimed Sukhbir.
"Samples from all the RO plants should be taken for testing every month. The Health Department just take one or two samples for sake of formality from RO plants. Schoolschildren in Bathinda have no other option but to drink unsafe water from handpumps provided as the only source on their school premises. The administration should immediately take action against those who are not cleaning the RO plants and water works even. All the sources declared as unsafe should be immediately seized," said, a local resident Mandeep Singh.
Bathinda District Health Officer, RS Randhawa, said, "There is no such hard and fast rule to take action against RO plant operators or water works managers if water is found with high bacteria content. We only ask them to have water cleaned whenever the samples are found failed." Dr Randhawa replied that no checking is conducted by the Health Department to ensure the compliance of water works or RO plants running properly and providing safe drinking water.

Top News
The former military ruler had left Pakistan in March 2016 fo...
After his failed misadventure in Kargil, Musharraf deposed t...
Military shoots down the surveillance balloon in Atlantic Oc...
The incident took place on Friday when Kambli reached his fl...
CM said only manual excavation of sand will be permitted in ...