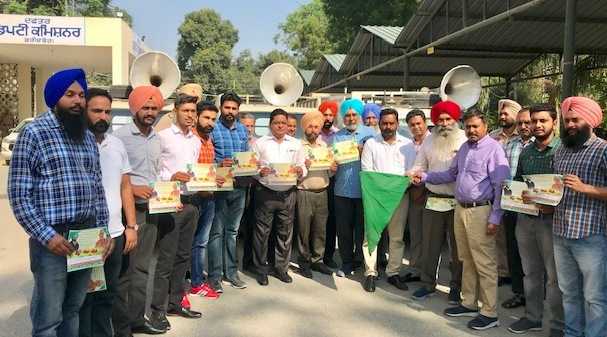 Slug: stubble burning
Tribune News Service
Faridkot, October 21
Deputy Commissioner (DC) Kumar Saurabh Raj on Monday flagged off three awareness vans of the Agriculture Department with an aim to bring awareness among farmers of the district on harms of stubble burning.
The DC said in the next four days, these awareness vans would tour all 150 villages of Faridkot, Kotkapura and Jaito subdivisions, sensitising farmers, by playing songs, on the issue of straw burning and need to save sub-soil water which was going down.
Despite intensive campaign, launched by the district administration for the past over one month, farmers are already on a stubble burning spree, violating the ban imposed by the state government and the administration. Last week, the district administration engaged students of all schools to organise rally against the menace of straw burning. Students were encouraged to discuss the issue of stubble burning with their parents and urge them to desist from it. "We are going to distribute literature and make announcements by using loudspeakers on vans. But we cannot say how far the campaign will help in tackling the menace," said a senior officer in the Agriculture Department.
Amandeep Keshav, project director of Agriculture Technology Management Agency (ATMA), Faridkot, said: "We are creating awareness and are hopeful making a discernible impact."
*********************************************************************************
Honey bees damaged
Burning of stubble in the fields has begun to take its heavy toll on honeybees. Complaints have been received from many beekeepers that field fires have damaged their bee boxes and huge stocks of bees have been burnt alive.
"Farmers, who have burnt the stubble, did not take precautionary measures to avoid the incident," said a beekeeper. The burning of wheat stubble also burns a lot of useful insects, birds and micro-bacteria in the soil, besides damaging the environment by causing air pollution.