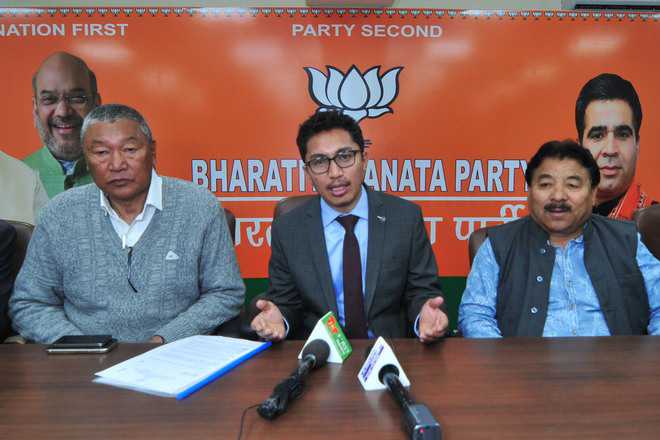 editorial@tribune.com
Tribune News Service
Jammu, December 5
Leh-based leaders today favoured trifurcation of the state, saying "it will resolve the J&K issue as aspirations of Jammu and Ladakh regions are totally different from that of the Kashmir valley"
"Jammu, Ladakh and Kashmir are three geographically different regions having different aspirations. There is no single solution to end the crisis in the state except trifurcation of Jammu and Kashmir as it will fulfil the desires of all regions," former minister and BJP MLC Chhering Dorjey told reporters here.
Flanked by Chief Executive Councillor (CEC) of the Leh Council Jamyang Tsering Namgyal and other executive councillors, Dorjey said: "Only trifurcation of the state can resolve all issues confronting the three regions," he said.
Earlier, the CEC said they had met the Governor, Advisers and senior officers in the state bureaucracy and submitted a charter of demands.
"'Free Ladakh from Kashmir' is one of our major demands and it can be achieved first by granting divisional status to Ladakh and later conceding to the demand for union territory status," Namgyal said.
"We have also met the Prime Minister and Home Minister and flagged our concerns. We have been assured that the issues will surely be addressed," he claimed, adding that "we will persistently fight for UT status to Ladakh till our last breath."
A delegation of the Leh Council on December 3 had met Governor Satya Pal Malik at Raj Bhawan here.
The delegation requested the Governor to urge the Union Government to accept their demands which include giving UT status to Ladakh, opening of Kailash Mansarovar route from Ladakh, inclusion of Bhoti language in the 8th Schedule of the Constitution and carving out a separate administrative division for Ladakh.