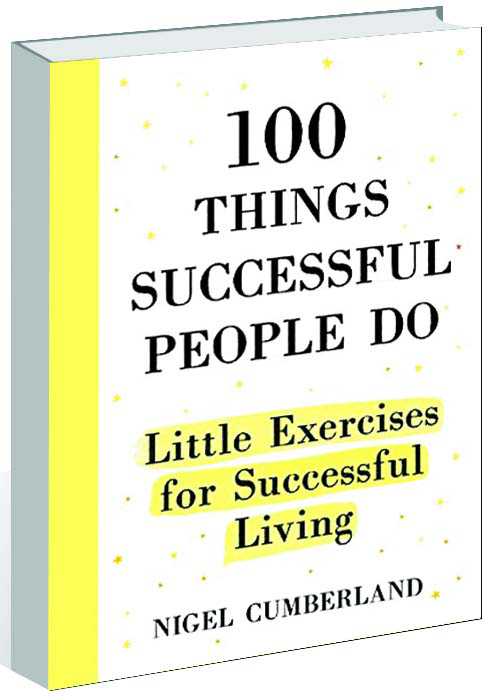 100 Things
Successful People Do: Little Exercises for Successful Living
by Nigel Cumberland.
John Murray Learning.
Pages 205. Rs 399
This is your guide to realising your dreams, from the large and audacious to the small and mundane.
100 Things Successful People Do is packed with great ideas for working smart and living well, all carefully chosen to help you achieve any kind of success you can imagine.
Every chapter features a new idea that will help you learn the optimal mindset and habits you need to succeed in work and life.
100 Things Successful People Do is your guide to successful living.
Remember Death: An Arjun Arora Mystery
by Ankush Saikia
Penguin.
Pages 423.
Rs 399
Detective Arjun Arora is summoned to Mumbai to track down an air hostess who has allegedly killed a bar dancer and vanished with a large sum of money. The search for Agnes Pereira leads Arjun on a nationwide hunt. But when their paths finally cross, everything spirals out of control. From being hunted by a hitman to uncovering a deadly secret that implicates Delhi's rich and powerful, Arjun's life becomes an endless nightmare. Haunted by his personal demons and aware of his growing attraction to the beautiful, mysterious Agnes, Arjun realises that sins from the past always cast their shadow over the present. But the closer he gets to the truth, the more terrifying the threat becomes to both of them.
A Full Night's Thievery: Stories
by Mitra Phukan.
Speaking Tiger.
Pages 221.
Rs 299
A musician never realised the truth of the saying 'Music is a harsh taskmaster' until his beloved instrument exacts the highest sacrifice. An unfaithful husband is baffled: his wife grows more and more perfect until she literally becomes the goddess of plenty. A loving mother is naturally distraught at the kidnapping of her son by insurgents…or is she? And Modon Sur, with the spoils of a full night's thievery in tow, finds himself in a sticky situation on a black amavasya night. In this collection, Mitra Phukan sounds the rhythms of contemporary Assamese society, deftly weaving universal themes of love, loss and ageing with some of the issues facing the region: militancy, witchcraft, and the breakdown of traditional ways of life. Her stories acutely depict people's struggles to relate to each other across vast social gulfs and within the intricacies of family and love. Intimate, allusive, and wryly observed, A Full Night's Thievery is a finely drawn portrait of humanity by one of the most prominent literary voices in Assam today.
Top News
The minister inaugurates Chief Judicial Magistrate court, Ma...
'I am Rahul Gandhi, not Rahul Savarkar,' he said when asked ...
Former Union Minister Ravi Shankar Prasad says stay on convi...
The plea is filed by a Kerala-based social activist
Amritpal has been on the run since March 18